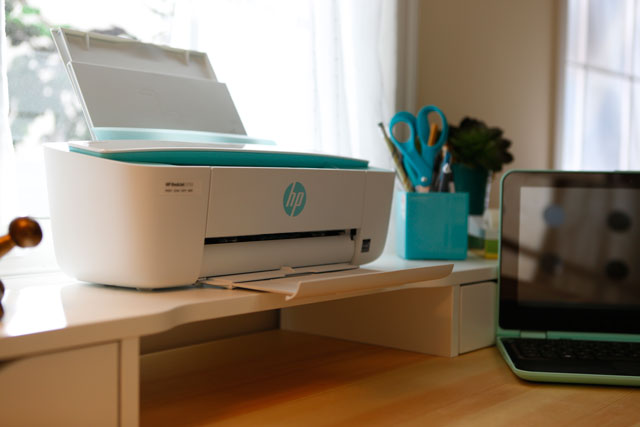 Are your printer and scanner eating up most of the space on your desk? Light, bright, and airy home offices and tech that works on the go are all the mode now. The latest trick for achieving that: the tiny HP DeskJet 3755 All-in-One wireless printer.
HP claims the wireless DeskJet 3755 All-in-One could very well be the world's smallest all-in-one deskjet printer for $250 or less. Its compact size saves space on your desk or work space, so you get more room for other productivity tools. Its ultra-compact wireless design easily fits out of the way on a counter or a side table or in tight spots like a shelf — practically wherever you need it. It's easy to pick up and take with you wherever you need to print. Print or scan straight from your smartphone or tablet.
This ultra-compact printer spews out printed pages fairly quickly, up to eight pages per minute for black printing and up to five and a half pages per minute in color. If you're printing out a long report at night after everyone else has gone to bed, enable quiet mode to preserve the peace and quiet. And you can retire that bulky flatbed scanner on your desk, because the DeskJet 3755 not only prints but also scans and copies on plain or stiff paper.
This device won't add to the tangle of wires in your office, because the HP DeskJet 3755 supports wireless network connections. Send print jobs to it over the air from your desktop or laptop, and quickly and conveniently print files and photos from your smartphone or tablet. You can even scan using your Android or iOS mobile device via the HP All-in-One Printer Remote app. The printer has a USB 2.0 port too, in case you need to connect it directly to your PC.
Space isn't all you can save with the DeskJet 3755 All-in-One. This little device saves big on printing costs, too. Save to 50 percent on ink when you order ink through your printer and have it delivered straight to your door; set up automatic replacements to be delivered when your existing cartridges approach empty. Optional high-yield ink cartridges can print two and a half (black) to three (full color) times as many pages as standard cartridges.
The DeskJet 3755 comes in eye-catching colors such as Electric Blue and Sea Grass Green. The HP DeskJet 3755 All-in-One Printer is now available for $69.99.
Thinking of buying an all-in-one printer? Learn what features to look for in our all-in-one printer buying guide.
[Image credit: HP]