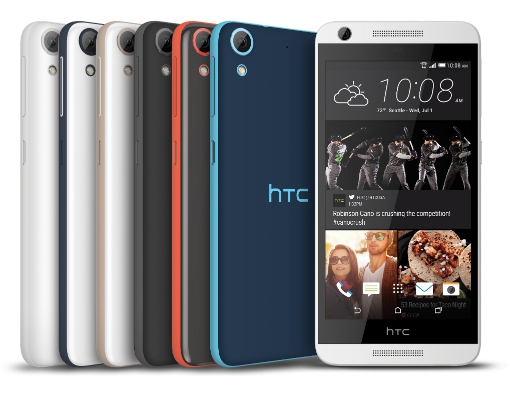 Smartphones are like our brains — few of us use even a fraction of their capabilities. So why pay $600 to $800 for a state-of-the-art, flagship phone when you can get what you need and will use most often for a fraction of that price?
That's the thinking behind the new series of sub-$150 Desire smartphones from HTC. The new line will roll out over the next few months to Verizon, AT&T, T-Mobile, MetroPCS, Cricket, Sprint, Boost Mobile, Virgin and TracFone at Walmart.
The first model to hit the market arrives this Sunday from Sprint, which will begin selling the Desire flagship 626S for just $129.99. That's the full price for the phone, not a discounted price available only if you sign a two-year deal.
Overall, four new Desires will be available: the 520, the 526, the 626 and the 626S. All share a certain number of attributes and specifications.
All run the latest Android Lollipop 5.1 operating system with HTC's Sense OS overlay and the company's BlinkFeed news service and Zoe photo/video creation app. The Desires are encased in plastic "zero gap" enclosures that make them far lighter than HTC's flagship One M models.
The Desire runs on a quad-core Qualcomm Snapdragon 210 MSM8909 1.1GHz chipsets and is equipped with a 8MP rear camera and 2000mAh battery. Its external microSD card slot lets you slip in a SIM or memory card without taking the back cover off the phone. The Desire shoots 720p video (not full 1920 x 1080p) and includes Wi-Fi and Bluetooth 4.1.
The Desire 520 is a Cricket prepaid exclusive. While the carrier has yet to announce pricing or availability, it will likely be priced in the $99.99 vicinity. Other than the aforementioned common specs, the 520 includes a 4.5-inch, 854 x 480-pixel FWVGA (Full Wide Video Graphics Array) display, a 2MP front-facing camera, 1GB of RAM and 8GB of user memory. It will be available in gray only.
The Desire 526, designed for Verizon, will likely be priced in the $100 to $150 range. It boasts a 4.7-inch, 960 x 540-pixel qHD screen, a 2MP front-facing imager, 1.5GB RAM and 8GB of user memory. It will be available in black.
The Desire 626 for Verizon and AT&T is equipped with a 5-inch HD720 display, a 5MP front-facing camera, 1.5GB RAM and 16GB of user memory. The Verizon version will be white with almond trim, while the AT&T edition will be white with navy blue trim.
The Desire 626S is a prepaid model. It features a 2MP front-facing camera and 8GB of user memory. Each prepaid carrier offers its own color scheme. MetroPCS and T-Mobile prepaid get the 626S in taupe purple with tangerine trim. There'll be a second MetroPCS in terra white and almond trim. Cricket's 626S will be navy blue with vivid blue trim, and Boost, Virgin, Sprint and TracFone all get pearl white with terra white trim editions.
[Image via HTC]