IFA, Europe's biggest consumer electronics show is always a hotbed of new products introductions. This year's show was especially rich in innovative, unique, and even eye brow-raising new gear. After walkiing the two-dozen-plus buildings that house IFA on the Messe Berlin fair grounds for a few days last week, we found 20 awesome products that we'd love to own.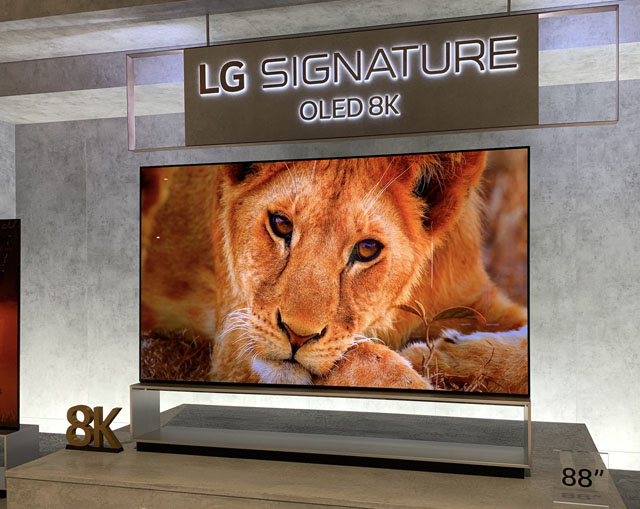 8K TVs
We saw 8K OLED and LCD-based models from nearly every TV maker extant – LG, Samsung, TCL, Sony, Panasonic, Sharp, and both Chinese and European brands such as Grundig, Skyworth, Konka, and Metz – as small as 55 inches and as large as 120 inches. Images on 8K TVs do look unreal – or, more precisely, really real, even from only a few inches away – and all offer sophisticated upconverting algorithms that boost even the lowest resolution content such as DVD and broadcast TV to near 8K quality. One in particular that caught our eye was this beautiful LG Signature 88-inch OLEDfor an eye-popping $30,000. Next year, look for 8K models certified thanks to minimum specifications being developed by the 8K Association
.
Amazon Nebula Fire TV Soundbar
If you want to be enveloped in sound while watching movies, you need a multi-channel sound system or sound bar. Now all you need is the new Nebula – Fire TV Edition, a soundbar with Fire TV built-in. The Nebula supports 4K streaming and Dolby Vision HDR and has a unified TV user interface, which means no more switching inputs. Near-field microphones make your Alexa requests heard over the din of what you're watching. A dedicated Alexa microphone button on the remote make it easy to initiate voice-based Fire TV content searches and interface navigation. If you pre-order a Nebula ($229.99, available for pre-order now on Amazon, shipping Nov. 21), you're eligible for an unlimited 90-day free trial of Amazon Music.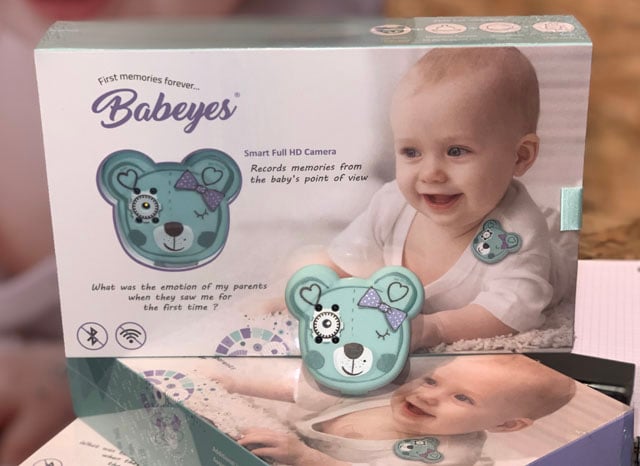 Babeyes Baby Camera
The Babeyes may look like a toy bear baby pendant, but it's actually a time machine. The idea is to attach this point-of-view wearable camera to your child or the crib and, when motion activated, it captures reaction footage of whoever interacts with him or her – like you, the child's parents. Then, years from now, your child can see how you reacted to them. Babeyes records two hours of high-def footage, which you then offload via USB to a PC app, which contains facial recognition so you can tag people your child "sees." Babeyes sells for $139 on Babeyes.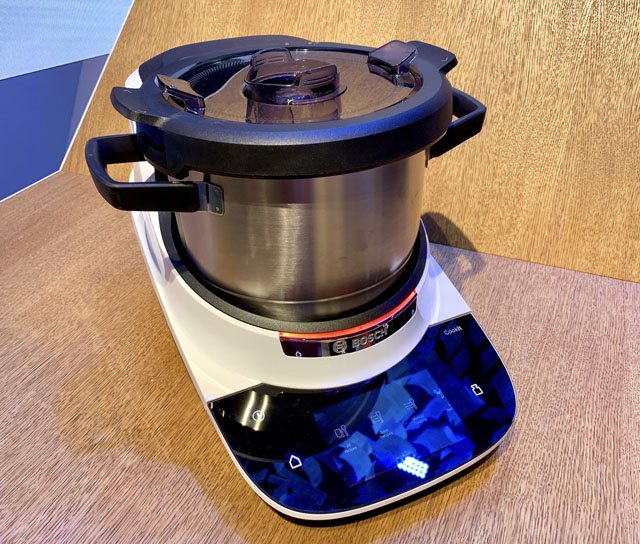 Bosch Cookit Food Processor/Cooker
Bosch has combined a food processor and multi-mode cooker into a single compact unit with its new Cookit. For food prep, the Cookit comes with a variety of blades, slicing discs and shredders, and for cooking there are whisks and stirrers. Cook at tempertures ranging from 37-200 Celsius to cook anything from risotto to steak in its 3-liter pot. On its 5-inch touchscrenn, you can choose from 200 included recipes, operate in full manual or select an auto program for tasks like kneading dough or steaming. You can even use voice commands via Alexa or Bosch's own HomeConnect smart kitchen control system. Cookit will be available initially in Germany and Austria (hence the German-only website), and hopefully here sometime in 2020.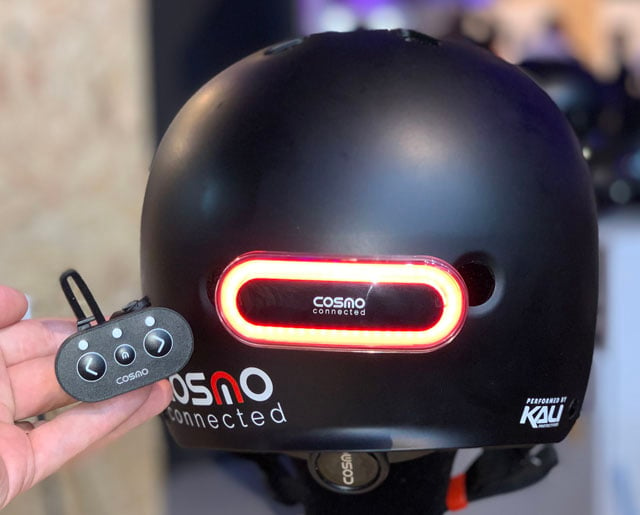 Cosmo Connected Bike Helmet
The Cosmo Connected Bike Helmet Light adds turn signal lights any bike helmet. Stick the light on your helmet and attach the remote to your handle bars to turn on yellow blinking right or left turn signal. Built-in GPS lets you track your ride through its app, and a fall detection sensor, triggers a text alert to a listed contact in case of an accident. Available for approximately $110 on CosmoConnected.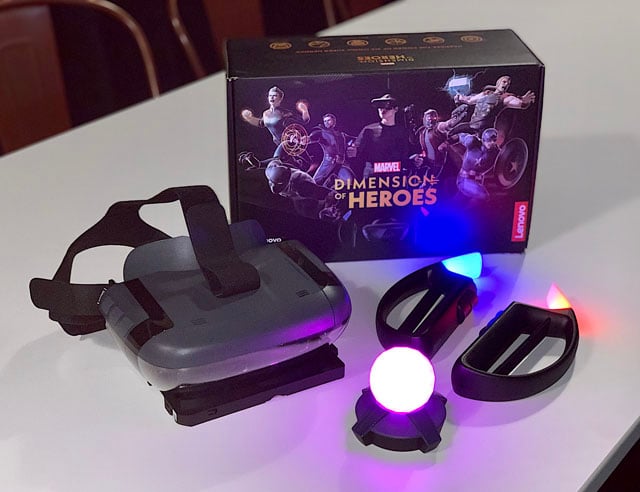 Lenovo Mirage AR Marvel Dimension of Heroes
Lenovo's new Marvel's Dimension of Heroes Mirage AR gaming system ($249.99) lets you assume the role of your chosen Marvel superhero and battle. Inside the box are the Mirage AR goggles into which you insert either an iPhone or Android smartphone with the game downloaded from the appropriate online app store, two controllers, and a floor beacon. You then choose to be Thor, Captain Marvel, Captain America, Black Panther, Dr. Strange or Star-Lord and one of three single or multi-player modes, none of which has any film or comic continuity. Since Mirage, which debuted with Star Wars Jedi Challenges two years ago, is AR and not VR, you'll be able to sense your immediate surroundings, obviating VR's dedicated play space and your fear of bumping into furniture or knocking over lamps during shooting or punching game play. Available for $249.99 on Lenovo (check price on Amazon)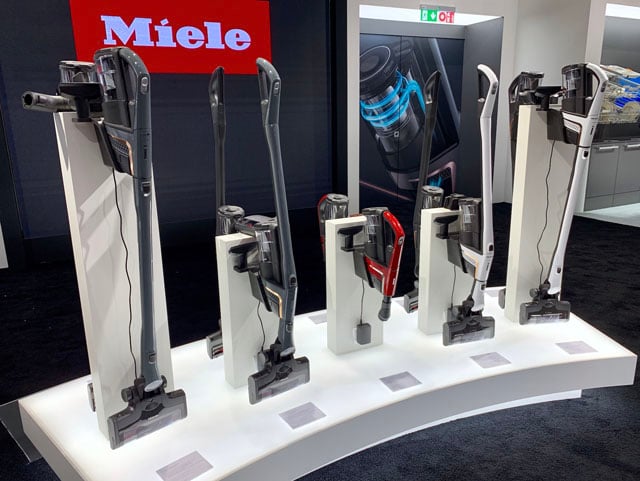 Miele Triflex HX1 Stick Vacuum
Miele's first stick vacuum, the Triflex HX1 is a modular three-way version that lets you move the dust canister around. You can place the canister at the bottom for better balance, you can move it to the top so you can slide the brush-roller under sofas or beds, or you can remove it altogether and create a Dustbuster-like handheld. You get two batteries, one charges while you use the other, which means you get up to two hours of cleaning between the two, depending on the power mode you choose, and the Triflex will automatically adjust as it moves from floor to carpet. To help match your now clean décor, Triflex comes in five colors. Available in Europe in November 2019 for approxmiately $575, however it is not clear if or when Triflex will be sold in the U.S.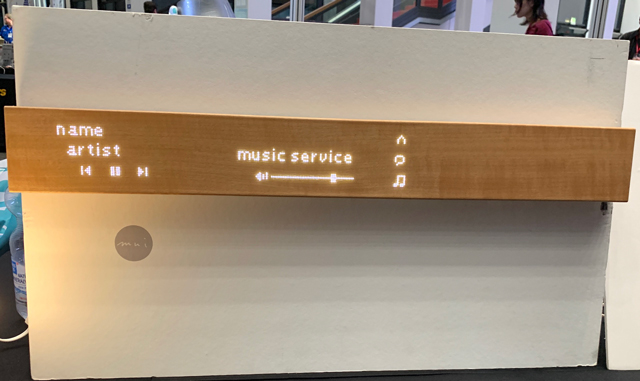 mui Lab Touch Panel
Possibly the weirdest and coolest smart home product we've run across, the mui Touch Panel ($550, spring 2020) is a small (26.5 x 3.3 x 1 inches) wood plank with touch controls and embeded LED lights. You touch it like any tablet or phone to control varying home functions including temperature, smart lighting, music via the built-in Wi-Fi and Bluetooth. It even has a mic and speaker and records and plays back short personal messages. When not in use, it displays the time and weather conditions.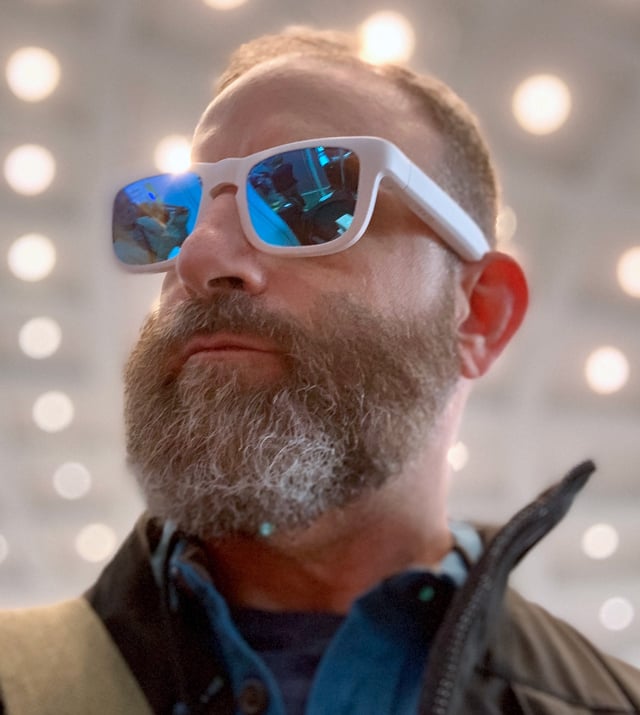 Mutrics Musig X Smart Audio Sun Glasses
Why wear both sun glasses and true wireless Bluetooth buds when you can wear a pair of these new stylish Mutrics Musig X smart Bluetooth 5.0 audio sunglasses. At the end of each ear temple are proprietary near-field 5.1 surround sound micro speakers that feed your tunes for your ears only while allowing you to keep track of the busy, noisy world around you. A microphone and a single button on the right temple lets you play/pause and answer phone calls. In case you get caught in the rain or you're a sweaty runner, they're IP55 water/sweat resistant. Rechargeable batteries will play for eight hours with a week's worth of standby. As sunglasses, the shaded lenses are UV400-rated, they weigh a surprisingly lightweight 1.76 ounces, and they're available in orange, white and black frames. Mutrics reps told me you can get your own prescriptions lenses installed. Available for $129 on Mutrics..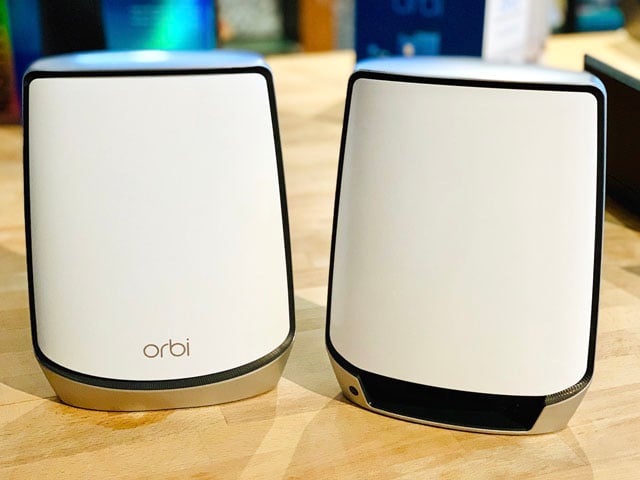 Netgear Orbi WiFi 6
Wi-Fi 6, the next generation of Wi-Fi is upon us, and Netgear will start selling the first Wi-Fi 6 mesh system, the Orbi Wi-Fi 6, at the end of next month. The new two-piece Orbi system physically resembles and operates like the original.You get two pieces, a master that connects to your cable modem and acts as a router with 4 Ethernet jacks, and a satellite you place somewhere centralized in your home to spread the wireless connection to your home's furthest corners (to cover up to 5,000 square feet). Even without a Wi-Fi 6 capable devices, you'll get more robust and possibly faster service, with higher-priority items like video streaming receiving better connections. Once you get Wi-Fi 6 devices, you'll start getting connections to your Wi-Fi 6 gear more than three times faster than current Wi-Fi 5. Available for pre-order for $699.99 on Netgear (check price on Amazon).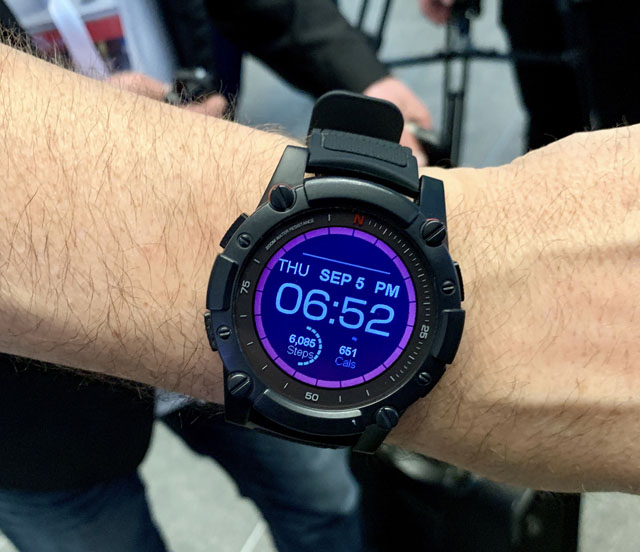 PowerWatch Series 2 Smart Watch
Unlike their dumb cousins, smart watches need to constantly recharged, a major pain point for watch wearers. Enter PowerWatch Series 2, which gets recharged via your body heat or solar power. These next-generation PowerWatch has a full-color display (gen 1 was monochrome) and built-in GPS, and waterproofing to 200 meters. On the software side, the PowerWatch Series 2 connects to either the Apple Health or Google Fit apps and packs in a wide array of activity, calorie and sleep tracking functions, including heart rate monitoring. You get a regular charger just in case the watch is off your wrist in the dark for a while (i.e. while you're sleeping), a missing option on the Series 1. Upgrading from standard ($499) to premium ($599) to lux ($699) is for a better band – the actual watch is the same at all three pricing levels. Pre-order now on PowerWatch.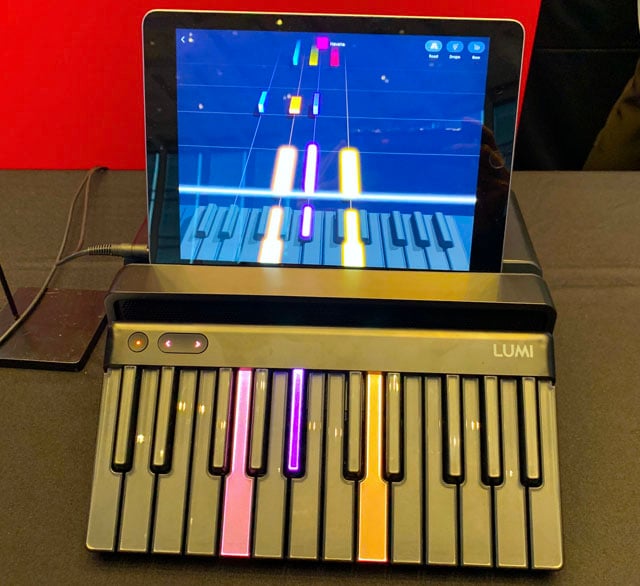 Roli Lumi Piano Teaching Keyboard
The makers of the Roli Lumi keyboardclaim you can learn how to play a song on a traditional keyboard in just a few hours with their keyboard. The learn by hitting color-coded keys on the keyboard to match those displayed in the accompanying app on a Bluetooth-connected smartphone or tablet. Lumi includes 24 keys – two octaves, but you can connect multiple Lumis to create a wider keyboard with a wider octave range. Initially the app will include around 300 popular songs with more to come. Available in December/January for $249.99 on PlayLumi.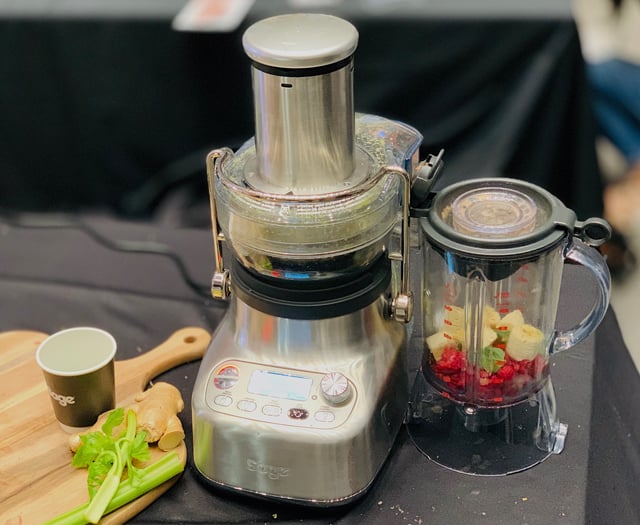 Sage 3x Bluicer Pro Juicer/Blender
The Sage 3x Bluicer Pro (also to be sold as the Breville 3x Bluicer Pro) is two appliances in one – a blender and juicer. As you juice your fruit or veggies, the fluid runs via a tube to the connected blender so you can make smoothies. As a juicer, Bluicer has an extra-large 8mm feed chute and a large 3-liter pulp bin. As a blender, you get five one-touch programs for smoothies, cocktails, ice-crushing and auto clean, a variable speed dial with 10 settings, and a 1.5 liter jug. Available in January 2020 for $649.95 on Breville.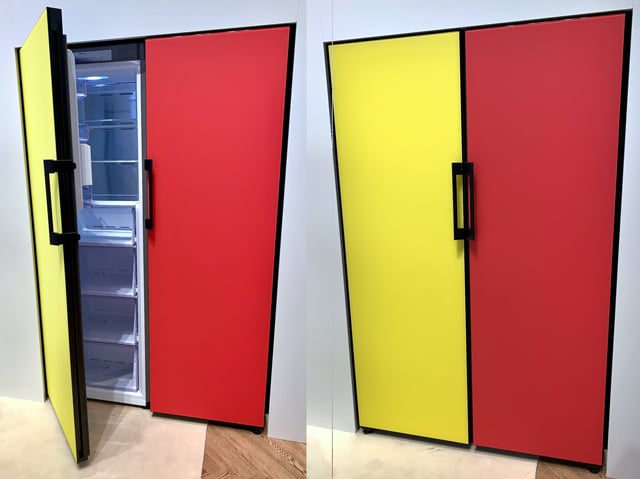 Samsung BESPOKE Modular Refrigerator
Samsung's BESPOKEline of refrigerators is a new type of customizable modular refrigerator system. First, you create a refrigerator from a single to four doors in eight different size/shapes. Then you choose from three different materials —cotta metal, satin glass, and glam glass — with multiple color and matte options available for each. Finally, you choose the overall interior shelf arrangement and design concept you want. BESPOKE fridges can be designed as either built-in or as stand-alone units.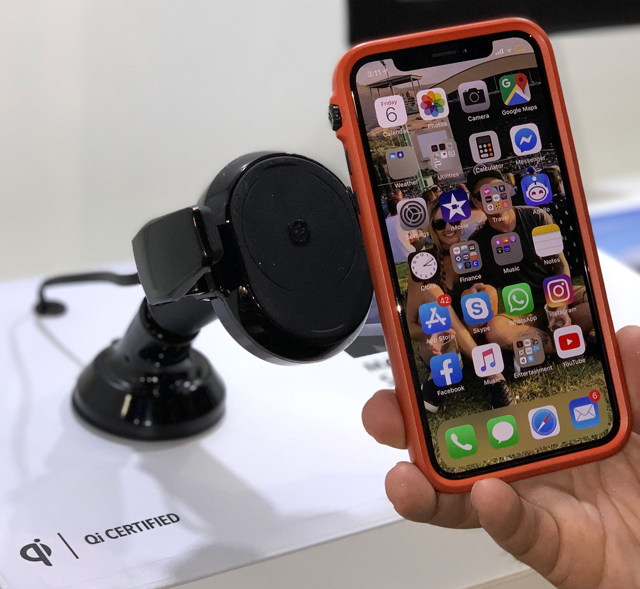 Scosche MagicGrip Smartphone Charger
There are a lot of automotive smartphone Qi wireless charger/holders available, but the Scosche MagicGrip has one key advantage: you can't put the phone in facing the wrong way. Its clamps won't auto-open unless it detects the Qi backside of your phone. The MagicGrip is equipped Fast Charge to more quickly wirelessly charge your iPhone or Android phone. Apple likes this MagicGrip so much it'll be stocking it in its stores. Available in November 2019 for $79.99 on Scosche.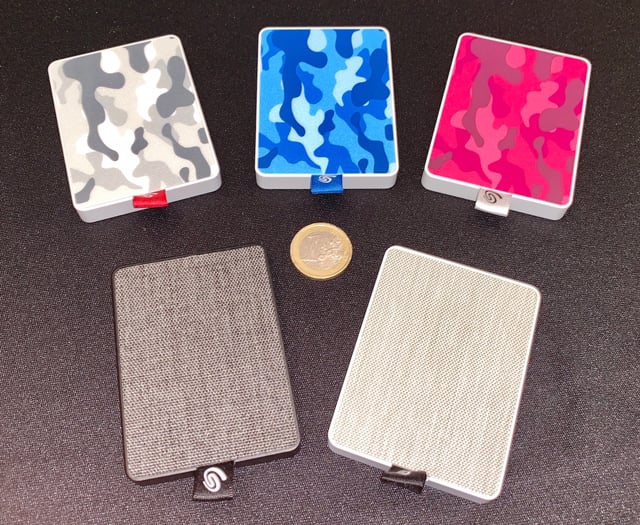 Seagate One Touch SSD
Solid State Drives (SSDs) are far faster and smaller than tradition traditional hard drives, which is why these new compact external Seagate One Touch SSDsare so cool. These tiny drives, which connect via USB 3.0, are far more pocketable than the admittedly less expensive hard drive versions, and Seagate has dressed them up with a variety of fun colors and designs. Available in October 2019 for $109.99 for 500GB, $199.99 for 1TB on Seagate.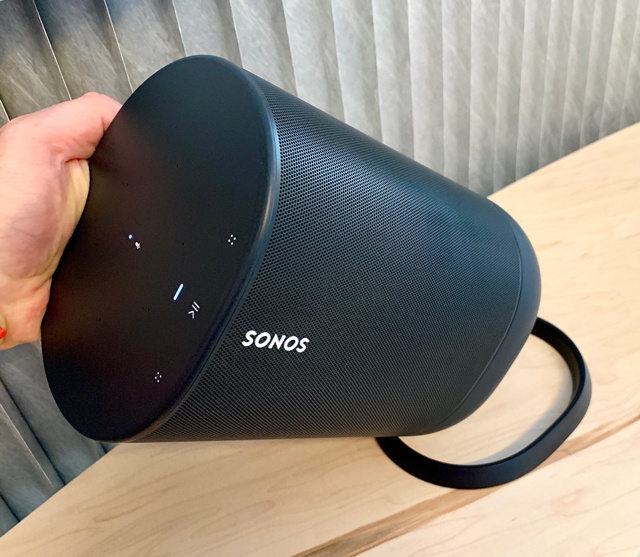 Sonos Move Portable Speaker
Sonos has finally realized that we sometimes want to take our whole-home music somewhere where there isn't a speaker. The company's Move portable speaker works both on Wi-Fi so can be integrated into a Sonos whole-home audio system or via Bluetooth for independent music reproduction like every other portable speaker. And the Move can be moved anywhere – it's completely waterproof (rain, not dunking), dust, temperature and bump-proof. At 10 hours Move's battery life is a little light in comparison to its existing portable speaker competition, but it is a smart speaker, either Alexa or Google. Sound-wise, Move is equipped with two Class D amplifiers, and four far-field mics allow it to hear your voice queries and commands. Available for pre-order for $399 on Sonos. Ships on September 24, 2019.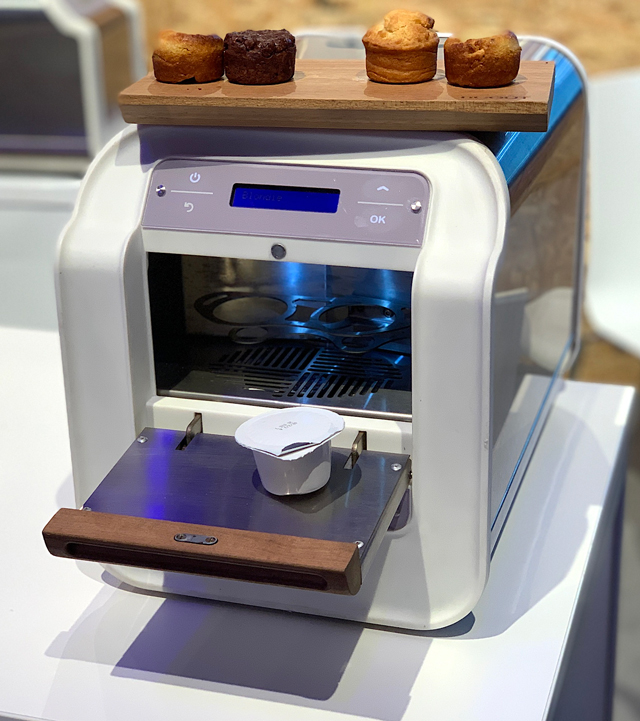 Tigoût My Pastry Chef Capsule Muffins
To be honest, we're not sure of the price/value relationship of this unique capsule muffin baker from Argentina, but it is so cool and unique, so we thought we'd tell you about it. The mini muffin dough for the Tigoût My Pastry Chef (approximately $400, early 2021) comes in capsules that the oven can bake in 4-12 minutes two at a time. But each muffin capsule costs $1.50, which is about the price of a regular-sized muffin. Right now there are four flavors: choco fudge, blondie, scones and milk jam, but there are eight more flavors on the way.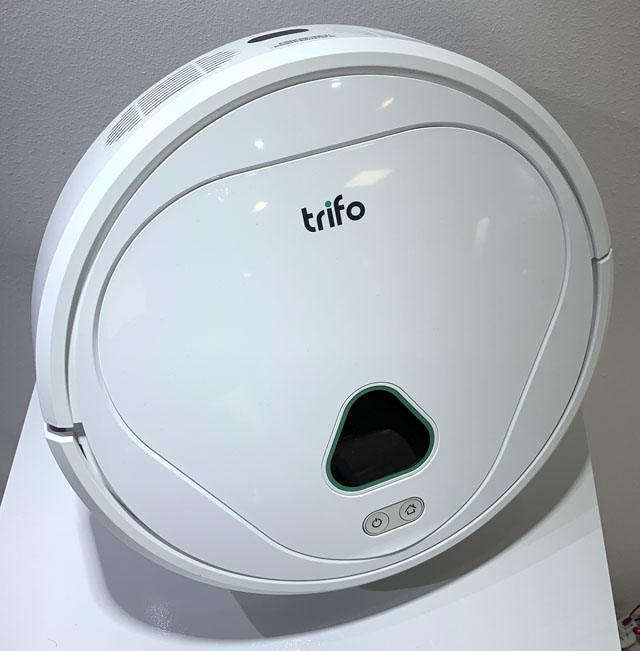 Trifo Max Home Surveillance Robot Vacuum Cleaner
Why rely on multiple stationary Wi-Fi camera when you can have one that can move around by itself to patrol your home – and do a little cleaning at the same time? That's the idea behind the Trifo Max robot vacuum. On top of the Max is a Full HD camera, so when the vac is on its automatic cleaning duties, it also can surveil the surroundings. Or, you can guide Max around manually and check things out for yourself. Max is equipped with both a mic and a speaker for two-way communication, and can be controlled by Amazon Alexa voice commands. If Max "sees" something amiss, it'll send you an alert. Max won't suck up anything heavy, but it'll clear your floors of hair, crumbs, sand and dust for up to 2 hours on a single charge. Available the end of next month for $449 on Trifo.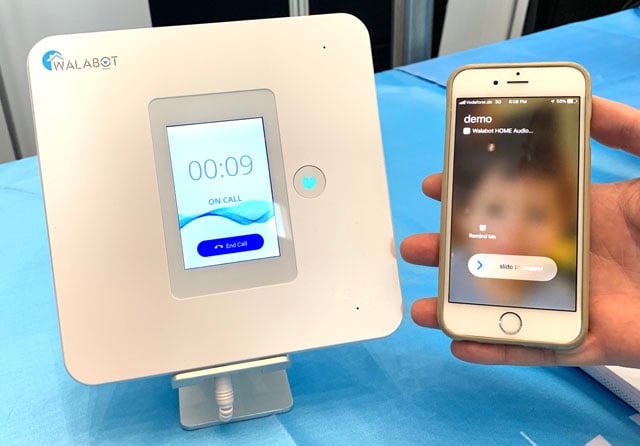 Vayyar Walabot Fall Sensor
If you know someone who's liable to fall and can't get up and doesn't want to wear a pendant, the Vayyar Walabot ($109; $9.99/month monitoring) promises a solution. It uses radio waves to detect potential problems. Even if you're fragile loved one wears a pendant, they may remove it when bathing, which is where Walabot becomes more valuable since, according to Vayyar, 80 percent of falls take place in the bathroom. If Walabot detects a fall, the fallen has one minute to let Walabot know s/he is okay. Otherwise, an alert is transmitted to listed contacts, which eliminates the scary possibility of someone falling and unable to get up for a lengthy and possibly lethal period of time. Walabot is also available in multi-room bundles, which lowers the individual unit price by $10 each – the company says three can cover a typical single senior residence.
[Image credit: Stewart Wolpin/Techlicious]