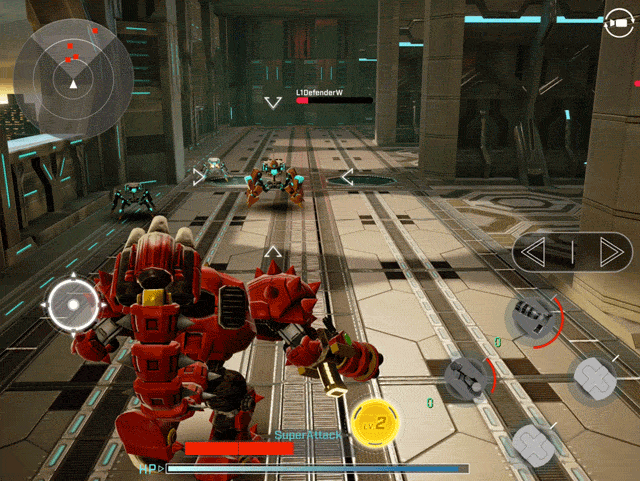 Toy companies and media companies go together like peanut butter and jelly, with TV shows like Transformers and Strawberry Shortcake launching along with toy lines that went on to sell millions. In recent years, companies like Activision and Nintendo have parlayed this success into toy-video game partnerships with their Skylanders and Amiibo collections. A new, less cartoonish game coming this summer, called Infinite Arms, hopes to attract both kids and adults with its mobile game and corresponding action figures.
The Skylanders, Amiibo and Disney Infinity model, known in the industry as toys-to-life, requires players to buy toy figurines in order to play a video game. These toys become the characters you play in the video game. Infinite Arms is taking a different approach; their video game is available free on both iOS and Android, so anyone can play it, but buying the Bluetooth-connected toys and weapons adds new elements to the game.
The Infinite Arms story takes place in 2050, a time that, in this particular version of the future, humans do everything online in an "evolved Internet." The characters are called Metamods, which are giant robots driven by humans, who serve as soldiers in transnational Power Houses rather than the traditional armies each country runs. The Metamods use weapon accessories called Armaments to defeat their enemies. Players can buy new Armaments and characters with in-app purchases that are designed and manufactured much more quickly than the average action figure.
Infinite Arms' parent company, Juno, Inc., is betting on its exclusive partnership with Amazon and manufacturers in China to produce and sell new weapons every two weeks, and entirely new characters every four months, much faster than the traditional toy creation process.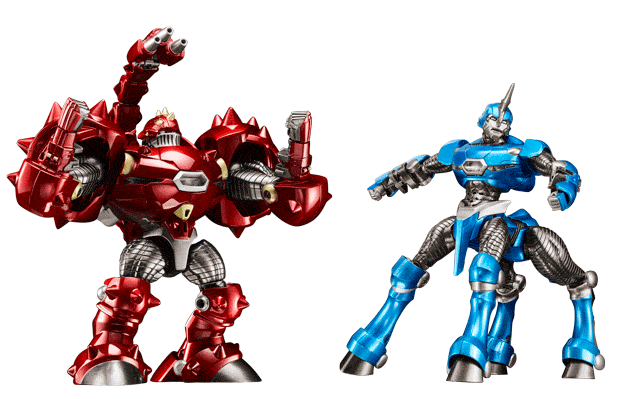 The company is hoping to capture the attention of the kids who grew up with Skylanders and are ready for a more evolved storyline and tougher, less cartoony characters. The Infinite Arms characters are designed by the same person who designs many of the Transformers toys, so they have a really similar look and feel. And unlike their toys-to-life predecessors, have fully movable arms and legs, which makes them much more fun to play with. The game itself has really awesome 3D graphics that look far more advanced than most mobile games and you can either play alone or with up to five others.
Infinite Arms looks to be the next step in the toys-to-life model's evolution. While the company hasn't announced prices or a final release date, these limited edition toys seem primed to fly off the virtual shelves. Check out the trailer below for a sneak peek.
[Images via Juno, Inc.]