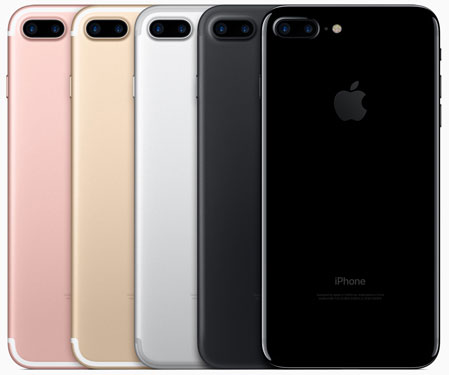 The iPhone 7 is just around the corner: Apple's latest phone is due out September 16. If you're familiar with Apple's yearly iPhone updates, you won't be surprised to know the new iPhone 7 and 7 Plus are faster, with better battery life and a more powerful camera. That's what we expect every year, but even those standard updates are appealing—and the updated camera, especially on the 7 Plus, is going to be great for photography. Your iPhone may not be DSLR quality, but it's getting closer every year.
Here are the basics:
The new A10 processor is 40% than the iPhone 6s, with improvements to power efficiency.
Battery life is up! The iPhone 7 has about 2 hours more battery life than the iPhone 6s, while the iPhone 7 Plus has about 1 hour more battery life than the iPhone 6s Plus.
The rear-facing camera snaps photos more quickly, with better image stabilization, more realistic color, and an improved flash. The front-facing camera has an upgrade to 7MP, with the same improved stabilization and colors.
The iPhone 7 Plus has two camera lenses: one for wide-angle shots and one for zoomed in shots. The 7 Plus can do 2x optical zoom and 10x digital zoom as well as use both cameras in tandem to give your photos DSLR-like depth.
No headphone jack. Future headphones will either be wireless or connect via the Lightning port.
For full details on everything the iPhone 7 has to offer, keep reading!
The new phones have a slight design upgrade, but it's slight enough that you probably won't notice it: there's just a bit of a lump around the camera lens. It comes in two new colors, black and a shiny jet black, in addition to the standard silver, gold and rose gold. Storage space on all models has been doubled, so the phone is available in 32GB, 128GB and 256GB, all at the same price as last year's model. The new iPhone is also water and dust resistant—rated IP67—which means your iPhone won't be ruined by an accidental dunk in water up to a meter deep. An updated home button rounds out the feature list: it's now a force-sensitive solid state—that means it won't be a physical, clickable button—with a taptic engine that vibrates to give you feedback to replace that click. This may be the last iPhone we'll see with a home button at all, as rumors have already started saying that the home button will be missing entirely from Apple's next generation phones.
As for the phone's speed improvements, it has new 64-bit A10 processor with four cores. Two cores are dedicated to high-performance tasks and run 40% faster than the A9 processor in the iPhone 6s. The other two cores are dedicated to efficiency. When you're running tasks that don't need much processing power—say checking your email—the iPhone automatically switches to the high efficiency cores, which use 1/5 the power. This means you could see notable improvements to battery life in everyday use, but still have the power to play games, edit video, and do other processor intensive talks when you want to.
With our phones always running dead on us, we're glad to hear about those battery life improvements. The iPhone 7 will have 12 hours of battery on LTE and 14 hours on Wi-Fi. The iPhone 7 Plus has better, with 13 hours of battery on LTE and 15 on Wi-Fi. On average, you can expect two extra hours of battery life on the 7 and one extra hour on the 7 Plus.
But the most impressive improvements are to the iPhone's camera, which is better across the board. The rear camera has a 12MP sensor that's 60% faster with a f/1.8 aperture that lets in 50% more light and a six-element lens that captures sharper images. Upgrades to the phone's optical image stabilization make it three times better than previous models, meaning steadier photos and videos in any situation. Wide color capture makes it better at catching true to life colors, while an upgraded quad-LED flash puts out 50% more light and has a flicker sensor that can compensate for the flicker of artificial lighting for more natural colors. On the software side, a new Apple-designed image signal processor has twice the throughput of previous versions, performing 100 billion operations to get your picture perfect in just 25 milliseconds. In short, you'll be able to snap better, more vibrant pictures faster. The front-facing camera is getting a boost, too: it captures images at 7MP (compared to the 5MP of the last-gen iPhone) and has the same image stabilization and wide color capture the rear camera does.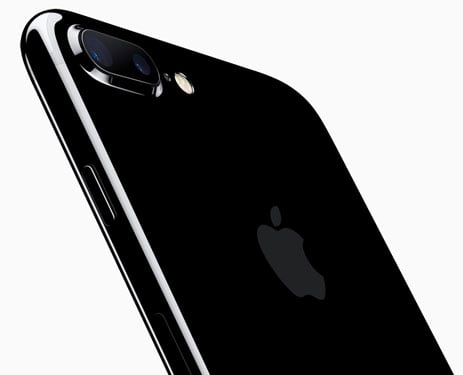 But the iPhone 7 Plus camera has the biggest upgrades: it has two rear cameras lenses instead of one. It's a feature we've seen on other smartphones—like the LG V20 announced earlier this week—and Apple showed off some astounding photos taken with the 7 Plus. One lens is the standard wide-angle lens we're used to, while the other is a telephoto lens for zoomed-in photos. The iPhone camera has always allowed you to zoom, but the zoom was handled by software. That meant zooming in lost photo clarity, which didn't always make for crisp pictures. With the telephoto lens, you can get sharp images at 2x magnification—and you can zoom up to 10x with software while keeping decent photo clarity. The two lenses can also work together to create a depth map of your photo which is used to make your subject sharp while leaving the background a soft blur. It's an effect you can get on high-end DLSRs, but because of the tiny lenses in smartphone cameras, it's hard to replicate. This feature won't be in the phone at launch, but will be added with a software update later.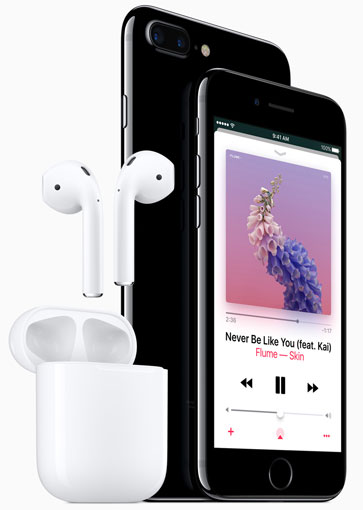 Missing from the iPhone 7 is a standard headphone jack, which Apple removed to save space. Instead headphones will connect via the existing Lightning port or an adapter (included)—which seems to mean that charging while listening is a thing of the past. Bluetooth headphones will work as normal, and Apple had several new headphone models on display. Apple's take on wireless headphones are the AirPods, a set of earbuds that pair with your iPhone just by setting them near one another, much like the Apple Watch. They're powered Apple's new W1 chip, which offers intelligent playback and a high quality connection, though we'll have to try it out for ourselves to see how it compares to ordinary Bluetooth headphones. The AirPods will play for 5 hours and come with a charging case that can keep them going for up to 24 hours. Also using the W1 chip are three new models from Beats: the updated Solo Wireless and Powerbeats3 Wireless, as well as the brand new BeatsX. We're certain to see Lightning compatible headphones from third parties soon, too.
Also coming soon is iOS 10, due out September 13 for iPhones 5 and up. With it, we'll get improvements to Siri, Maps, Messages, Music and HomeKit.
The iPhone 7 starts at $649 while the iPhone 7 Plus starts at $749. Baseline models come with 32GB of storage, with 128GB models adding $100 and 256GB models adding $200. Pre-orders start this Friday, on September 9, and the phone will start shipping on September 16. The last gen iPhone 6s and 6S Plus will get a price drop to $549 and $649, respectively—but they get the same storage bump the iPhone 7 has, making them available in 32GB and 128GB models. If you're interested in Apple's new AirPod headphones, you'll have to wait a little longer: they'll be shipping in late October for $159.
[image credit: Apple]