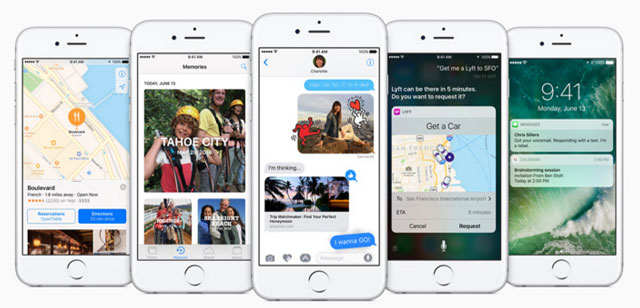 Yesterday, Apple CEO Tim Cook kicked off Apple's annual Worldwide Developers Conference (WWDC) and there are big changes coming, especially for iPhones and iPads. You'll have a more vibrant texting experience filled with bigger emojis and easy-to-create animations, smarter and more accessible Siri, more widespread Apple Pay, a less confusing Apple Music, a more comprehensive HomeKit smart home app, and extensively updated operating systems for all of Apple's wrist, palm, laptop, desktop and living room devices.
The biggest changes will be to iOS, the iPhone/iPad operating system. Cook called the pending iOS 10 "the mother of all updates," with 10 major function updates highlighted during the presentation.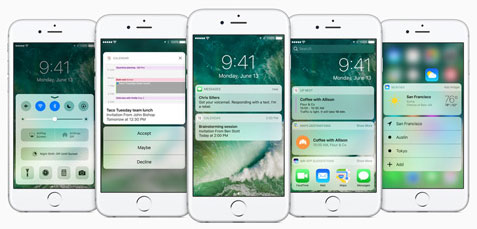 Access to multiple functions and apps via Apple's 3D touch technology from the iPhone's lock screen; you won't have to unlock your phone and boot specific apps to view and answer text messages, get to the camera, or view and interact with notifications or a variety of other apps and widgets.
Create mixed video/still photo highlight "Memories" movies of trips, complete with theme music, that you can shorten or change and then share. You'll also be able to search and sort photos for people, objects, places, scenes and topics contained within them.
A completely redesigned and simplified Apple Music app with more clearly labeled functions, including song lyrics, easier ways of discovering new music based on what you listen to, and an easier way to access music already stored on your phone.
A new Home app that contains controls for all HomeKit-enabled smart home gadgets, regardless of manufacturer, that can now be programmed to work in concert.
Perhaps the most extensively re-worked iOS app is Messages for texting, the most frequently used iOS app. Emojis will appear three times larger, and words that can be turned into emojis are highlighted – just tap the highlighted word to choose the right replacement emoji; short replies can be hand-sketched instead of typed; Bubble effects let you adjust the text size and add a visual animation to express an emotion; Invisible Ink disguises a text in particles that are swiped by the recipient to see the secret message; and, background animations such as fireworks or a laser show can be added to conversations.
In addition, the Message app will automatically generate maps, create Calendar events, suggest contacts to share, send money, and intuit other needs from the content and context of your text conversations.
Apple also is opening up both Messages and Maps to developers to create and add even more fun and function to both apps.
All the new features and functions for iPhone, iPad, Mac computers, Apple Watch and Apple TV will be available in free software updates this fall.
Smarter Siri, Apple Pay, Watch and TV
Siri will escape the confines of the iPhone and Watch and to be available to desktop Mac users as part of the next-gen Sierra OS X, now called macOS to match the company's iOS, watchOS and tvOS nomenclature style.
Siri, who will appear as a new Dock icon in Sierra, can be used to search for content and search within searches and conduct other basic desktop computing functions.
Also coming to the desktop is one-button Apple Pay to speed online shopping payments. Buyers need only click on the Apple Pay icon, then confirm the purchase via their iPhone or Watch, which already contains all the user's Apple Pay shipping and authentication data – no more address forms or credit card information needs to be laboriously filled in.
With watchOS 3, Apple Watch users will find that apps will nearly instantly, rather than the current 2-10 seconds it now takes. Users also will be able to access frequently used apps via a new scrollable dock that will pop up when the button beneath the crown is tapped once.
Also improved is the Apple Watch's Activity app; users will be able to access workout and bio data from and trade trash talk with fellow exercisers to spur competitive workouts. Wheelchair users get a customized Activity app, and Breathe guides users through scheduled meditative deep breathing breaks.
Users also will be able to use sketch-to-text on the Watch screen to answer messages.
Also added will be a new global "SOS" function, accessed by pressing and holding the side button. The Watch will know wherever you are on the planet and call the correct local emergency services number, and also generate maps and medical information to aid responders.
Apple TV users will be able to use an updated iPhone Remote app to use Siri to find programs or channels to watch, and can use a universal "Single Sign-On" function to authenticate connection to individual content apps.
These iOS, macOS, watchOS and tvOS improvements represent a fraction of improvements coming for all Apple devices, which we'll explore in more depth when the updates become available.
[image credit: Apple]