A Nation divided. On one side, we have those who care deeply for our country's vital natural resources. On the other, citizens who carelessly squander these national treasures.
Are we talking about our National Parks? Our pristine coastlines? No, we're here to discuss something much closer to the hearts of the average American—their Apple iPhone and iPad.
SquareTrade, a consumer tech warranty company, looked at its claims data and discovered that some states in our union are far more prone to drops or water damage to their iPhones and iPads. So SquareTrade ranked the top clumsiest states, and the winners are...[insert drumroll]
The top five states for iPhone mishaps in order are Mississippi, New Mexico, Rhode Island, North Dakota and South Carolina. Overall, the South clearly has a dominant position over the North when it comes to breaking their iPhones. Could it be the year-round humidity makes the iPhone slippery? Do Southerners have a subconscious disdain for products made in California?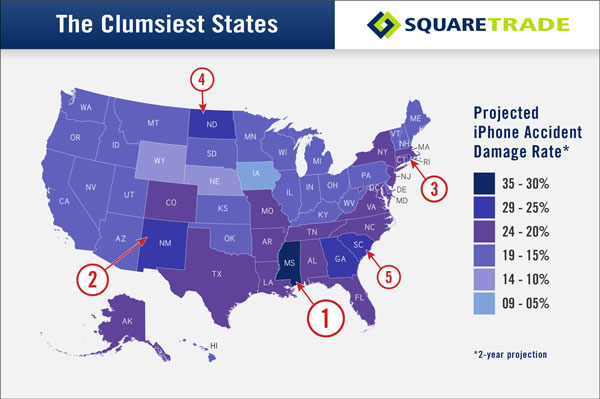 When we look at the top five for iPad accidents, the winners in order are Mississippi, Nebraska, New Hampshire and Alaska. Here we see a definite East-West divide caused by...well...we're not sure why.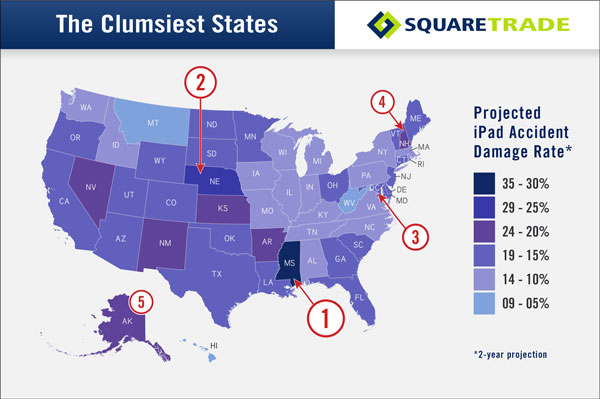 We do know that Mississippi residents, who picked up #1 in both spots, would be wise to invest in a good protective case.