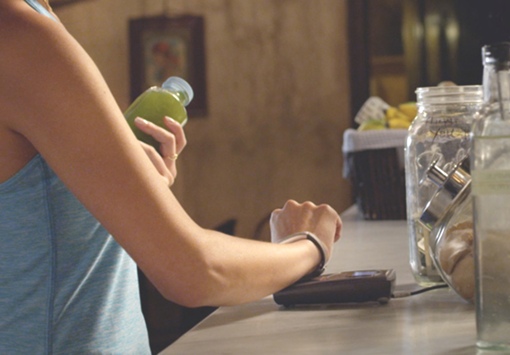 This summer, the future of mobile payments will arrive on your wrist. Today, Jawbone announced that its next generation of Up fitness bands will include NFC functionality, allowing you to make purchases with an American Express account with a simple tap.
The new device, the splash-resistant Jawbone UP4, will track your activity, calories burned and offer sleep and heart monitoring. It will also have an NFC chip built in, which can be paired to an existing American Express card through the Jawbone smartphone app. The wristband will get a tokenized version of your AmEx number to protect your account details. There are no passwords to memorize here – you complete purchases just by tapping a compatible payment terminal with your UP4.
This setup exposes you to some risk: Anyone could steal your band and use it to make tap-to-pay purchases all over town. American Express does offer you the ability to instantly deactivate the band at any time through the app, however.
The mobile payment feature will not be built in to the current generation of Jawbone's UP3 band, nor will it be available on older versions of the company's fitness monitors either. There was no announcement made about support for Visa and MasterCard accounts, though you can expect that this feature will likely stay an AmEx exclusive, at least through the specified expiration date of July 31, 2019. If you don't have an AmEx card, you can apply for one through the Jawbone app.
For American Express, the move makes a ton of sense. Having mobile payment functionality built in to a fitness band would allow you to purchase a bottle of water while out on a run or at the gym, even if you leave your wallet at home. Jawbone, meanwhile, gets to add a compelling new feature to its product, though certainly adding an NFC chip adds to the manufacturing costs and the final selling price of the band.
In addition to the UP4, Jawbone also introduced a new, budget-minded tracker called the UP2. Designed to be the successor to the UP24 band, UP2 is a smaller device that tracks activity and your sleep. Designer Yves Behar says it is designed to be a "discrete experience," so that others won't necessarily know that you're using the device to measure your fitness.
The Jawbone UP4 will retail for $199.99 when it is released later this summer. The Jawbone UP2, meanwhile, is available now in stores and at jawbone.com for $99.99. You can learn more about both devices by visiting the official Jawbone blog.
[Image credit: Jawbone]