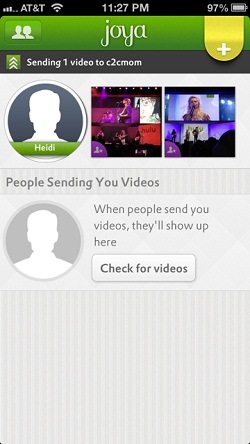 While smartphones lure us with the promise of features like instant video sharing, the ease of uploading and sharing videos has lagged – often taking hours to upload mere minutes of video.
For the most part, six seconds of video through a Vine on Twitter has been all that most people's 3G network can muster while on the fly. But what about the longer video of your daughter's dance recital that you want to share with your parents, or the video of your son's first home run that you want to share with your spouse stuck at work, that's stuck on your phone? Uploading those mobile memories to YouTube or Vimeo usually has to wait until after the fact or the next day – which can easily become forgotten.
Joya, a video sharing app designed for the iPhone (free in iTunes), has cracked the code of convenient video sharing. With a simple interface, Joya helps to share your video–of any length–by accessing the videos that you've taken on your iPhone and sending them to a specific set of friends and family.
Using Joya is as easy as selecting the videos that you want to share from the video library on your iPhone, and then entering the email address or phone number of the people you want to share it with. You don't have to link to a social network, register a personal profile, download a player or anything. Joya sends an email or text alert with a custom link to the recipient; the recipient clicks on the link and the video simply starts to play.
You'll receive a confirmation email once the recipient opens up you video so you'll know who's viewed it. You control who the video goes to, versus posting personal family moments more broadly on sites like Facebook or Vimeo.
Joya has made video sharing easier for our family, and I can see us using Joya moving forward to actually share some of the family milestones and memories that we've been recording all along.
Joya is available for iPod touch (3rd – 5th generation); iPhone 3GS – iPhone 5; iPad and requires iOS 5.1.