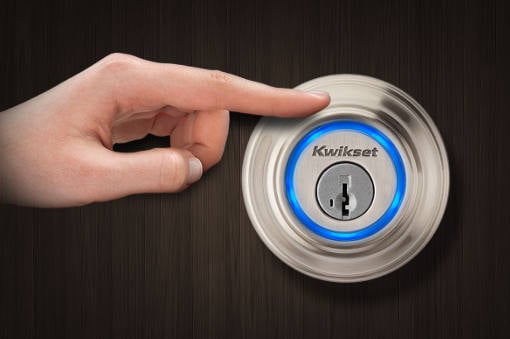 If you rely on the smart Kwikset Kevo deadbolt lock to secure your door, it's time to upgrade it to Kevo Plus. With Kevo Plus, you can now check the status of your smart lock using the most recent Kevo app or the web-based interface at MyKevo.com.
The upgrade, which costs $69.99, comes with a Bluetooth gateway that lets you lock or unlock your Kevo from wherever you are in the world via the updated Kevo app (at least version 1.4 for iOS and 1.1 for Android). This means that you don't need to be physically near the Kevo to be able to control it. Just connect the gateway to your router to be able to access your locks over the Internet. The gateway then communicates with your Kevo locks via Bluetooth Low Energy.
The latest version of the Kevo mobile app also includes InHome Locking and Unlocking that lets your smartphone lock or unlock your Kevo or Kevo Plus just by being within Bluetooth range. The Touch-to-Open feature is still available; with this function, you can lock or unlock the Kevo or Kevo Plus by touching it, provided that a recognized smartphone is also within range — handy when your arms are full of grocery bags.
The Kevo and Kevo Plus work with mobile devices with Bluetooth LE 4.0 support, including Apple devices running at least iOS 8 (e.g., iPhone 6, 6 Plus, 4s, 5, 5c, 5s, iPod Touch fifth generation or higher and iPad and iPad Mini third generation or higher) and Android devices running at least Android 5.0 Lollipop (including the HTC One M9, Nexus 6 and 9, Samsung Galaxy S5, Galaxy S6, Galaxy S6 Edge, Galaxy Note 4 and Galaxy Note 4 Edge).
Kwikset Kevo is available for $194.49 on Amazon. Once you have a Kevo, you can upgrade to Kevo Plus on Kwikset.com.
Read our review of the Kwikset Kevo to learn more about how it makes keeping your home secure more convenient for you. If you've been considering buying this type of smart lock, see our list of the five best smart locks for your home.
[Image credit: Kevo]