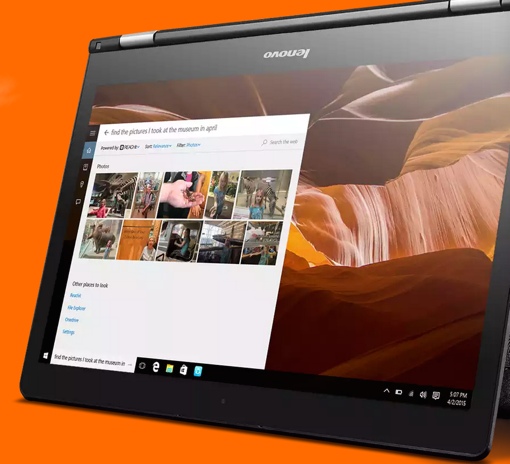 Lenovo today announced an intriguing new feature coming to its Windows 10 laptops and tablets called REACHit. It boosts the power of Microsoft's Cortana digital assistant, enabling her to perform smart voice searches for files located on any connected Lenovo PC or tablet you own and across multiple cloud services.
Using the new feature will first require you to create a Lenovo ID, which you'll use to authenticate on all devices you want to connect. After that point, they'll all be connected for the purposes of Cortana voice search. That way, you can request she "find the document I viewed Thursday night on my tablet" or "find the picture I edited last week at Starbucks." You don't need to know the exact file name – just it's type, a recent action you took with the file (edit, open, review), the date you performed the action, the GPS location of the action or another relevant piece of metadata that helps identify it.
Further, REACHit allows Cortana to reach into multiple cloud services, such as Google Drive, DropBox and Box. Without REACHit, Cortana is (sadly) limited to searching for files on Microsoft's own OneDrive cloud storage service. All searches are encrypted and performed in the Lenovo cloud, taking about 400 milliseconds.
Both Cortana and REACHit will be available when Windows 10 launches later this summer. For more information or to sign up to be notified of the public beta launch, visit cortanareachit.com. For more on the Windows 10 operating system, check out the recent coverage of Cortana and Microsoft Edge, the replacement for Internet Explorer, right here on Techlicious.
[Image credit: Lenovo]