Maintaining a sense of computer privacy can be tough today when you're working in a noisy home environment, a co-working space or a Starbucks. But with all the smart tech sensors and artificial intelligence built into the talented new Lenovo Yoga S940 laptop that debuted at CES, users can live the perpetual dream of peace, quiet and security.
Suffer from embarrassing barking dog syndrome when you're on a conference call? Optional AI features in the ultra slim S940 can automatically filter out ambient noise and blur out distracting backgrounds.
Need to step away from the computer at your WeWork desk? The moment you turn your head away from the S940 screen its AI sensors detect your absence and auto-lock the display to protect your data from snooping eyes. Better yet, it rats out the spies, detecting and alerting when a nosey neighbor is shoulder surfing from your screen.
Enhanced productivity is also promised in Lenovo's suite of Smart Assist AI features, expected to be available in the new Yoga S940 at launch in May 2019. A branded AI attention sensing technology called Glance by Mirametix keeps its eye on your eyes. Look away from your main laptop display to a second screen and GBM will shift open windows and content to that connected external monitor for a seamless and intuitive user experience. Lenovo Smart Assist uses its built-in infrared camera and Windows Hello to activate a secure and convenient hands-free log-in. Your AI assistant even helps when you're across the room – using voice matching personalization to only respond to your dulcet tones when you're triggering actions from Amazon Alexa and Microsoft Cortana.
Reigning in the power usage on a very long work day is another way Yoga S940 is smart. Responding to use patterns, the laptop learns how to adjust its power settings for a marathon-length session. It keeps this deceptively thin (0.48 inch) and light (2.65 lbs) laptop energized for up to 15 hours.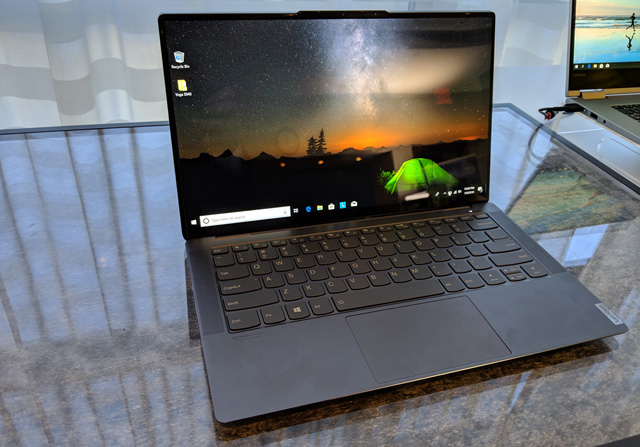 The Yoga S940 is the first laptop with a contour glass display that wraps around the tiny bezels for an extra streamlined appearance. Choose from an FHD (full high definition) 13.9-inch display with 400 nits peak brightness or upgrade to a 4K HDR display boasting up to 500 nits peak brightness. You'll get an 8th Gen Core i7 processor, up to 16 GB RAM and up to 1 TB SSD storage. Available in May 2019 starting at $1,499.
[Image credit: Lenovo, Techlicious]