LG announced its Optimus Black Android smartphone at CES, which it claims is the world's slimmest and brightest smartphone on the market.
I'm a big fan of slim phones and the Optimus Black does not disappoint. It is only 9.2 mm at its thickest point, tapering down to just 6 mm at its slimmest. And the trim profile translates into an incredibly light weight of 3.8oz (109g)—well below the 4.2oz of the Samsung Vibrant, one of my favorite phones.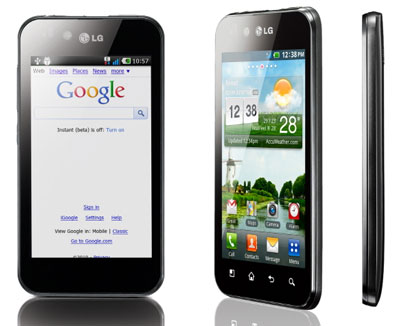 The 4-inch (480x800) display on the Optimus Black uses LG's "NOVA" technology puts out 700 nits of brightness, compared to 500 nits for the iPhone 4 and 300 for Samsung's Galaxy S line. What this means in practice is better viewing in sunlight and better white color representation in photos and video. There was a lot of sunlight in the interior warrens of the Consumer Electronics Show, so we'll have to wait until it launches to really test it out.
The NOVA display on the Optimus Black also uses much less power than standard LCD and AMOLED displays, which should result in longer battery life—something all of us who own smartphones would like to see.
While the Optimus Black has a rather standard 5MP camera on the back, it has a 2MP front-facing camera for greater resolution during video chat. So it seems odd that the Optimus Black is only a 3G phone, as 4G speed would be much better at supporting that extra resolution.
The Optimus Black sports a 1GHz processor, but information on RAM and internal storage was not released.
The LG Optimus Black will be rolled out globally in the first half of 2011 with Android 2.2, and then may be upgraded to Android 2.3 Gingerbread sometime thereafter.