Review of the Samsung Vibrant (Galaxy S) on T-Mobile
Techlicious editors independently review products. To help support our mission, we may earn affiliate commissions from links contained on this page.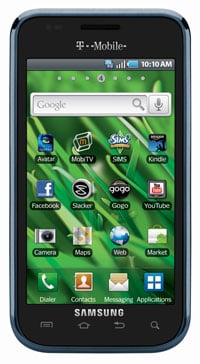 The new Samsung Vibrant (Galaxy S) smartphone, which launched on July 15th with T-Mobile, has stiff competition from other recently launched Android phones—MyTouch 3G Slide (T-Mobile), HTC EVO (Sprint), and the DROID X (Verizon)—and, of course, the Apple iPhone 4 (AT&T). But in my hands-on testing of the Samsung Vibrant over the last few weeks, it more than held its own and became my phone of choice for day-to-day use.
How it feels in the hand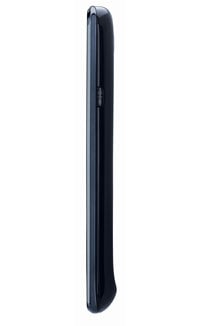 The Vibrant is deceptively light for its size, weighing in at only 4.2 ounces. The low weight, combined with the slim profile (4.8 x 2.5 x 0.4 inches), makes the Vibrant very comfortable to hold, especially when compared to thicker and heavier phones, such as the MyTouch 3G Slide, DROID X and EVO. Though the glossy finish and rounded corners of the Vibrant did not give me the same sense of security as the textured finish of the DROID X.
Display and video content
The Samsung Vibrant really shines in the display department. It has a beautiful 4-inch display (800 x 480) with incredibly vibrant (yes, it lives up to its name) colors and terrific brightness. While not quite as big as the DROID X or EVO's 4.3-inch screens, you really don't notice a difference in day-to-day use. And compared to the iPhone 4, I would choose the Vibrant's larger screen (4 inches vs 3.5 inches) over the iPhone's higher resolution (960 x 640).
To showcase the Vibrant's multimedia prowess, T-Mobile is shipping the Vibrant with a full version of Avatar pre-loaded. It's a nice freebie, but Avatar was meant to be seen on the bigscreen, and 4 inches just doesn't cut it.
Web browsing
The 4-inch screen and vibrant colors make web browsing a pleasure. But the Vibrant does not have Flash and we don't know whether it will be included when (if) the Vibrant receives an update to Android 2.2. Verizon has already announced that the DROID X will be updated to Android 2.2 and Adobe Flash Player 10.1 later this summer.
Camera and video recording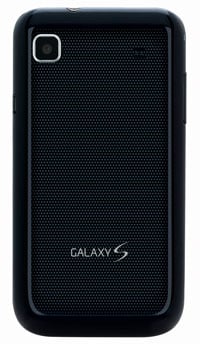 The Samsung Vibrant has a 5MP camera, 720p video recording and TV-out output capabilities. Unlike its competitors, the Vibrant does not have a flash.
Overall, I found the shots on the Vibrant to be very good, even in low-light conditions. I didn't see the lack of flash as a big drawback since most cell phone flash pictures look terrible, anyway, and the Vibrant has a night scene mode that helps with low-light shots. Colors were more pronounced and there was less noise than on the DROID X with its 8MP camera. Though Apple still rules the roost in cell phone picture quality.
The camera menus were not intuitive, with similar functions perplexingly divided into different navigation menus. The variety of shooting modes and scene options, as well as some fun cartoon effects, were great once you found them.
The 720p video recording was also slightly better than on the DROID X, but I would still opt for a standalone camcorder if I were filming anything I wanted to save for posterity.
TV-out is of limited use—the phone will stream personal photos and videos, YouTube and the Internet to a TV, but not purchased movies or the included Avatar (Updated to correct that YouTube can be output to the TV)
Unlike the iPhone 4 and EVO, there is no front-facing camera, so no video chat for the Vibrant. Given the limitations of video chat over 3G networks, mobile video chat over 3G may not be in the iPhone 4's future either, so the 4G-capable EVO is the current winner in this game.
Keyboard and Navigation
The large display of the Vibrant allows for a nice, big virtual keyboard. I found the keyboard very easy to use and the built-in Swype made virtual typing a breeze. If you need a physical keyboard, then the MyTouch 3G Slide would be a better choice. But once you get used to Swype I don't think you'll miss having real keys.
Navigation was very similar to other Android phones, with seven panels, each customizable with various widgets and apps. It's an intuitive system and was quite responsive to my finger movements. There are some minor quirks with the Samsung customization, such as separate menus for Samsung widgets and Android widgets, but nothing earth shattering.
The Vibrant's touch-sensitive main navigation buttons—for Menu, Home, Back and Search—were a little hit-or-miss. Usually they registered on the first press, but occasionally needed a second or third attempt. Since they are part of the glass, there is no physical identifier to tell you where they are, so you can't find them without looking at the phone. In this regard, I like the physical buttons of the MyTouch 3G Slide and DROID X better.
Following an annoying trend of adding bloatware, Samsung and T-Mobile are bundling in some apps, such as MobiTV and Layar, that take up storage space and cannot be deleted from the phone. While this isn't unique to the Vibrant, it's a shameful practice we feel should be stopped immediately.
Mobile hotspot capability
Not on the Vibrant. If you need it, go for the DROID X or EVO.
Storage
The Samsung Vibrant comes with 16 GB of on-board memory and will support up to a 32 GB microSD card. Plenty of room to store your library of songs, videos and photos.
Battery life
Like every smartphone I've used the Samsung Vibrant sucks energy like its going out of style. Under normal conditions with occasional calls, web browsing and app usage, I was lucky if it lasted more than 24 hours.
Pricing and availability
The Samsung Vibrant is available at www.t-mobile.com and in T-Mobile and Radio Shack stores for $199.99 with a new, two-year customer agreement. And Amazon currently has a special offer of only $49 with a two-year agreement. (Updated 9/2/10 to reflect new Amazon price)
Should you buy it?
The Samsung Vibrant is the best phone on T-Mobile and, possibly, the best phone on the market. While other phones offer features the Vibrant does not, the overall combination of slim form factor, beautiful 4-inch screen and decent camera make it a winner for me.
That said, if you need mobile hot spot capabilities, you should look to the DROID X and EVO. And if you are in an area with solid AT&T coverage, the iPhone 4 offers the best camera, simple syncing of music and video through iTunes and the (limited) ability to do mobile video chat over WiFi through its FaceTime app.
The problem today is not finding a good phone, it's deciding which great phone to choose.
Detailed Specs
Talk and Standby Time Talk time: Up to 6.5 hours Standby time: Up to18 days standby
Band/Modes: 850 MHz;900 MHz;1800 MHz;1900 MHz;UMTS: Band I (2100);UMTS: Band IV (AWS);UMTS: Band IV (1700/2100)
OS: Android 2.1, update to Android 2.2 late summer
Weight: 4.2 oz
Dimensions: 4.8 x 2.5 x 0.4 inches
Battery: 1500 mAh
Display: 4.0" WVGA AMOLED (800 x 480)
Video: 720p HD Capture, HD Playback via TV-out or DLNA
Camera: 5.0 megapixel, Digital Zoom, Auto Focus
Processor: Samsung 1GHz Cortex A8 Hummingbird Application Processor
Memory: 16 GB on-board, 2 GB microSD pre-installed, supports up to 32 GB micro SD – total memory expandable up to 48 GB
Discussion