We've seen a bevy of new smartphones recently, including a brand new breed of foldable phone. While LG's latest lineup doesn't include a folding phone, it does include a unique take on the multi-screen smartphone — and some other innovative features, too.
V50 ThinQ 5G
The V50 looks a lot like last year's V40, but with a few new bells and whistles. It adds 5G capability, a more powerful processor, and a big 4,000mAh battery to power those extras. This 6.4-inch smartphone is a slim 8.3 millimeters, with a sharp 538ppi QHD+ OLED display. Like many of the latest smartphones, It's equipped with three rear cameras, including a standard lens, a zoom lens, and a wide-angle lens for capturing everything.
But the specs aren't what's impressive about this next-gen smartphone. While the competition has been coming up with clever ideas for screens that unfold into tablet-sized displays, the V50 simply has an optional second screen. This 6.2-inch OLED display attaches to the phone like a case, and it's powered by the phone's battery so you never have to charge it. The two screens can operate independently for easy multitasking or they can work in concert — for example, the second screen could be a game controller or a keyboard. It's an interesting take on the folding screen concept, and it lets you carry your phone as a slimmer, single-screen device when you want to.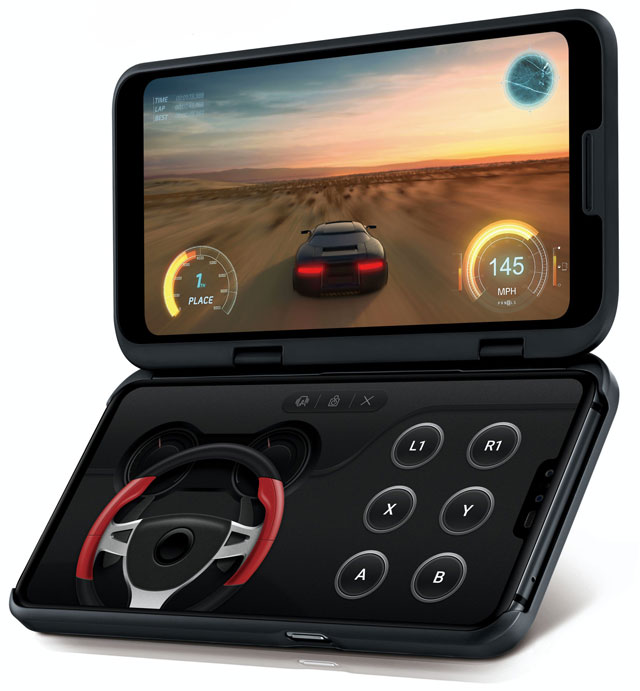 As to its 5G features, the V50 can be as much as 20 times faster than a 4G phone — as long as it has 5G service. At present, 5G coverage in the United States is extremely limited: AT&T offers 5G in select cities, while Verizon, Sprint, and T-Mobile will be adding 5G coverage this year. However, don't expect nationwide 5G service to roll out immediately, which means you may not get the benefit of that speed just yet. But 5G will be much more common by the end of the year, and having 5G support in a phone you buy now means you're ready to take advantage of that speed when it shows up.
The LG V50 ThinQ smartphone will be available in the coming months, but the exact release date and price haven't been specified yet. However, when last year's V40 was released it started at $900, so expect prices to start in that range or higher. And the second screen is an add-on that will cost extra — meaning a multi-screen V50 could rival the $2000 price tag of the Samsung Galaxy Fold.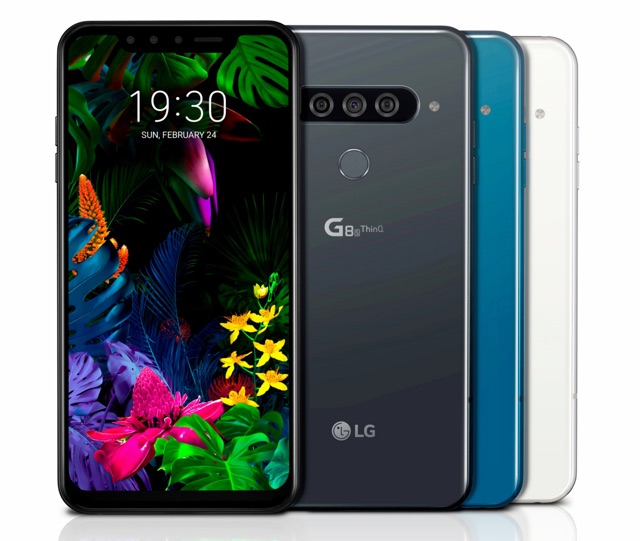 G8 ThinQ
While the G8 doesn't offer 5G or a second screen, it has some unique features of its own. Most notable is a brand new kind of authentication system, which LG calls Hand ID. The G8 uses its camera and infrared sensors to recognize the shape and thickness of the veins in your palms to confirm that you are you. To unlock it, all you have to do is hold your hand in front of the front-facing camera for a second. It's not only speedy: it's more secure than the standard fingerprint scan. But if you'd rather, it supports Face Unlock, too.
This is made possible by the G8's advanced Z Camera, which measures infrared rays reflected off objects to calculate depth — as well as the blood vessels in your palm. Its ability to sense depth lets it create 3D images, meaning it can't be fooled by a 2D image or confused by different ambient light conditions. This also enables another new feature: Air Motion, which lets you control the phone with hand motions. A swipe of your hand can do things like answer calls or switch between applications. It's quick and easy (once you get used to it), and it lets you control your phone when you can't look at the screen or when you're wearing gloves.
Even if you're not interested in these features, the G8 is a solid smartphone. It has a 6.1-inch QHD+ OLED display, with an impressive 564ppi resolution for clear, bright images. And while the 3,500mAh battery isn't as big as the one you'll find on the V50, it's more than enough power for a phone without a battery-draining 5G modem. The camera setup is similar to the V50, with three rear-facing cameras: a standard lens, a wide-angle lens, and a zoom lens. The size of the image sensor and the speed of autofocus are both improved over LG's previous generation cameras for images that are crisper than ever. Plus the Z Cam that enables all of those advanced features also adds more depth to your photos by letting you control background blur and bokeh.
The G8's biggest downside is the lack of 5G. But as we mentioned earlier, without widespread 5G coverage, you probably won't notice a difference — at least not yet.
The phone should be available in the coming weeks, though there's no pricing information yet. But expect flagship smartphone prices, probably $800 or higher.
Should I buy one of these phones?
LG's V50 and G8 both have some stiff competition with the latest generation of smartphones. Samsung, Sony, Huawei and Nokia all offer strong options for anyone planning on upgrading their smartphone this year — and until we know the price of the V50 and G8, it's hard to know how they'll stack up. But since none of these phones have been released just yet, you have time to make up your mind.
Image credit: LG