Samsung just unleashed arguably the most impressive array of new mobile devices and worlds-first mobile technologies in the short history of the smartphone. The latest lineup of Galaxy smartphones includes the S10, S10+, S10e, S10 5G and Fold. The Galaxy Fold is the real stand-out: it's the world's first seamless foldable phone. This 4.6-inch phone opens like a book to present a single 7.3-inch tablet display.
And what's a new smartphone without accessories? Samsung also announced wireless Galaxy Buds headphones and two new fitness wearables, any of which would be a good companion to your new Samsung smartphone.
We got a hands-on look at Samsung's latest gadgets — read on for all the details.
The Galaxy S10
If you're thinking of buying a traditional Samsung smartphone, your choices are the four Galaxy S10 models. All of them are equipped with the company's Dynamic AMOLED screen, and they're available in white, black, blue and pink.
Performance
Galaxy S10e: 5.8-inch "flat" 522ppi Dynamic AMOLED screen, side fingerprint reader, dual rear camera with single OIS, single front selfie camera, 3100mAh battery.
Galaxy S10: 6.1-inch 550ppi Dynamic AMOLED screen, ultrasonic fingerprint reader, triple rear camera with dual OIS, single front selfie camera, 3400mAh battery.
Galaxy S10+: 6.4-inch curved 438ppi Dynamic AMOLED screen, ultrasonic fingerprint reader, triple rear camera array with dual optical image stabilization (OIS), dual front cameras with an ultrawide mode, a 4100mAh battery, and Samsung's new Infinity O-Display Dynamic AMOLED. The S10+ also comes in ceramic black and ceramic white.
Galaxy S10 5G: 6.7-inch curved 505ppi Dynamic AMOLED screen, quad rear camera array with dual optical image stabilization (OIS) and a 3D depth camera, dual front cameras with an ultrawide mode, a 4500mAh battery. Unlike the rest of the lineup, the 5G model does not have an SD card slot and it doesn't support dual sims.
Beyond the basic stats, these phones also have great Wi-Fi performance. They're the first non-routers to include next-generation Wi-Fi 6 (aka 802.11ax) Wi-Fi, which will deliver up to 1Gbps speeds once fully implemented. That will mean faster internet access whenever you're connected to a Wi-Fi network that supports it — that may not include many networks, yet, but it will let the S10 keep up with advancing technology.
An impressive new display
The S10 models feature several world-first technologies, including Samsung's Infinity O-Display Dynamic AMOLED. These screens display 1200 nits of brightness – which is brighter than most 4K TVs — and can show 16 million colors. These are the first mobile phones to support HDR 10+ contrast, just like the company's 4K and 8K TVs.
All-new cameras
Both the S10 and S10+ have the world's first triple rear camera configuration, which includes a 12MP 73-degree standard lens, a 16MP panoramic 123-degree wide angle lens, and a 12MP telephoto lens. While a zoom lens has become pretty standard in two-camera smartphones, the 123-degree wide angle lens has the same field of view as your eyes, so you can capture more in every photo. The less expensive S10e loses the zoom lens, but otherwise has the same setup as the rest of the lineup.
On the front, the phones have a 10MP selfie cam, and the S10+ adds a second 8MP front-facing lens. The S10 5G adds two extra cameras with a 3D depth-sensing camera on both the front and rear of the phone. These 3D cameras aren't for face unlock — none of these phones support that feature — but instead for improved AR.
All of the S10 models also have the ability to shoot video 4K video — from both the front and rear cameras — with higher-contrast HDR 10+ technology.
More secure than ever
Except for the budget-priced S10e, these phones ditch the standard capacitive fingerprint scanners as well as the iris scanner found in the Galaxy S9. The S10, S10+, and S10 5G are the first phones to use Qualcomm's ultrasonic fingerprint sensors. Instead of holding your finger to a specific spot on the phone, the sensor is embedded in the screen, so you can tap anywhere on the screen to unlock your phone. Beyond not having to fumble for the fingerprint sensor, this ultrasonic sensor has no problem even if your hands are wet or covered in lotion.
Not only is it easier to use, but it's also more secure. The ultrasonic sensor it takes a 3D rather than a 2D image of your fingerprint to confirm your identity. That should make it harder for anyone to fake your fingerprint.
Your phone is also your wireless charger
The phones not only charge wirelessly, but they also double as Qi wireless charging pads. That means you can you can recharge wearables, — like the new Galaxy Buds —or even recharge other Qi-compatible smartphones simply by setting them on your S10.
Availability and pricing
The Galaxy S10e starts at $749.99 and prices go up from there: the S10 starts at $899.99 and the S10+ starts at $999.99. You can get up to $550 if you trade-in an eligible device, making these pricy phones a bit more affordable. Preorders begin February 21 at 12:01 am ET, and if you order before March 7 you'll get a set of Galaxy Buds ($129.99) for free. Phones will start shipping on March 8.
Samsung didn't announce pricing or timing on its flagship Galaxy S10 5G, primarily because no carrier in the U.S. has publicly launched their 5G network. It will be exclusive to Verizon when it does arrive, but be aware that you won't get those 5G speeds until Verizon has a 5G cellular network in your area.
The Galaxy Fold is impressive — and expensive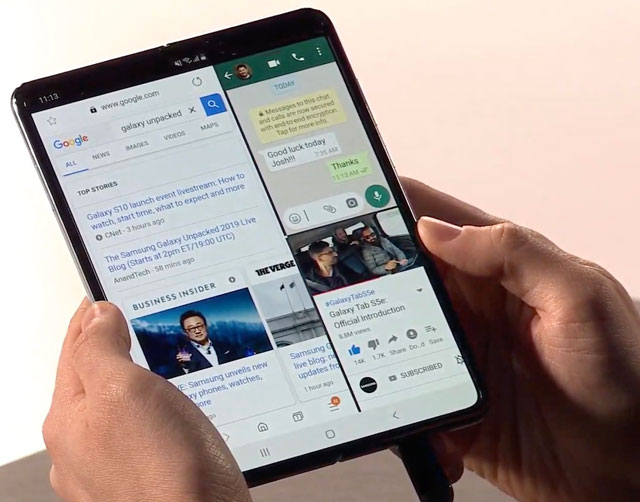 The star of the Samsung show tech-wise was the Galaxy Fold. Thanks to a feature Samsung calls App Continuity, whatever you're viewing on the external 4.6-inch AMOLED screen will automatically appear on the larger and squarer 7.3 tablet Infinity Flex Display screen when you unfold it. Fold also features tri-app multitasking on its tablet screen – for instance, you can view a movie, text and surf the web all at the same time.
Look and feel
Physically, Fold is twice as thick as a standard smartphone with a hidden hinge that Samsung says has been tested to withstand thousands of folds. From normal viewing distance there doesn't seem to be a discernible seam in the middle – it looks just like an ordinary (albeit bulky) smartphone. The Fold will come in four colors: Cosmic Black, Space Silver, Martian Green and Astro Blue, with customizable hinge coloring.
The Fold has even more cameras
Fold also is equipped with six cameras. You'll find a triple-lens array on the back, similar to the Galaxy S10 and S10+ with a single front-facing selfie camera and an additional two cameras in tablet mode.
Security
Fold's fancy foldable screen means it skips the ultrasonic fingerprint sensor for a more conventional side fingerprint reader. It's not as advanced as what you'll find on most S10 models, but it's tried and true.
Performance
Inside, Fold gets its smarts from a next-gen 7nm processor, its equipped with a massive 12GM of RAM to run the dual single-screen and tablet apps, with 512GB of onboard storage to keep your files. It's powered by twin batteries, one on each side that work in concert — but we don't know the batteries' capacity or life. No matter what the size of the batteries, battery life will likely vary widely depending on how often you use the larger, power-sucking tablet screen.
Availability and pricing
While flashy, the Fold is clearly aimed at the well-heeled geek. It'll start at an eye-popping $1,980 for the 4G LTE version, which will be available April 26. You should expect to spend a lot more moolah for the 5G version, but Samsung didn't note additional Fold pricing information.
Samsung's latest wearables include earbuds and fitness trackers
Then there are the accessories. The Galaxy Buds are the second generation of Samsung's true wireless Bluetooth earbuds, probably replacing the current and pricier Samsung Gear IconX buds. For $50 less, the new Galaxy Buds ($129) provide 5 hours of calling and 6 hours of streaming music on a single charge. The case is also a charger and adds another 7 hours of playtime. It's the first true wireless earbud case that can also be charged wirelessly and can give you 1.7 hours of use on just a 15-minute charge.
And of course the Buds easily pair with Samsung devices — simply open the case and a pairing message will appear on a Samsung phone or tablet. Buds audio is supplied by AKG by Harman and supports Samsung's Bixby voice assistant. The earbuds will come in white, black and yellow editions.
Two fitness wearables round out Samsung's lineup, with the Galaxy Watch Active smartwatch and the Galaxy Fit and Fit E sports bands. All can auto-track six different exercises and support manual tracking for more than 90 other healthy activities, as well as tracking sleep, heart rate and stress levels. That's all fairly standard for fitness trackers, but on March 15, a software update will let the Galaxy Watch track your blood pressure, a feature found on few wearables.
The Galaxy Watch Active ($199.99) will be available on March 8, while the Galaxy Fit models are due out on May 31.
[Image credit: Techlicious]