Choosing the right headset for work or school can help increase your focus and productivity. That's why Logitech worked with students and educators to create a kid-friendly version of its popular Zone Wired headset, the Zone Learn.
The Zone Learn was specifically designed for the educational needs of a K-12 classroom, so they're durable and built to handle drops and tears. And unlike regular kids' headphones, they're tuned for voice clarity and digital learning tools, such as apps with tones and sounds, to help students hear voices and audio and follow along without distractions.
The Zone Learn has an adjustable headset slider to fit kindergarten through 12th-grade students. Logitech says they started by optimizing the headset for the smallest size possible and scaled it up from there with a soft, lightweight headband and articulated ear cups contoured to fit kids' faces. In addition, the built-in rigid boom mic can be pushed up and out of the way when not needed, and the 120-degree swivel accommodates students with glasses.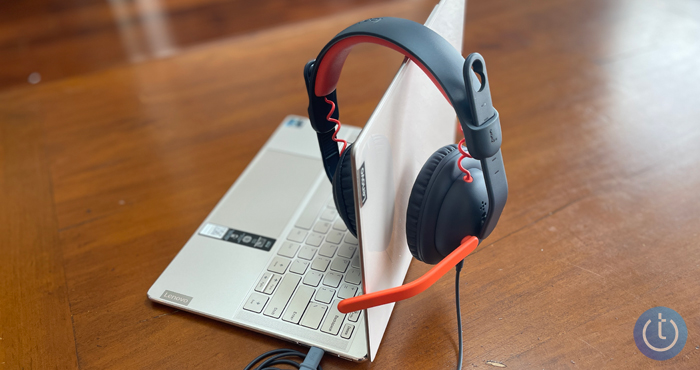 Because kids can get fidgety and lose focus, Logitech worked with educators to minimize potential distractions. For example, there are no controls on the headset itself; all the controls are through the device they're working on, whether it's a Chromebook (they're Works With Chromebook (WWCB) certified), a tablet, or a desktop. And they intentionally made the wired cable 4.3 feet since teachers said shorter wires equal less distraction.
The Zone Learn will cost $35 and come with their choice of over-ear or on-ear cups and one of three cable options; 3.5mm aux, USB-C, and USB-A to match whatever technology the classroom uses. A consumer version of the Zone Learn will have an over-ear design, come with 3.5 Aux and USB-C cables, and cost $40.
[Image credit: Andrea Smith/Techlicious]
Andrea Smith is an award-winning technology broadcast journalist, reporter, and producer. Andrea was the Technology Producer and an on-air Technology contributor at ABC News for over two decades before becoming the Lifestyle Channel Editor at Mashable, where she explored the ways in which real people, not just geeks, began using technology in their everyday lives.