Millions of people worldwide color their hair at home, and even more began doing so after the lockdown brought on by the Covid-19 pandemic in 2020. According to L'Oréal, the at-home hair color business grew by 6 percent last year. But even for those used to coloring their own hair at home, it can be a messy task, fraught with worry over missing a spot or patchiness of color. L'Oréal aims to take the guesswork out of coloring at home with Colorsonic, an electronic handheld device that automates the whole process.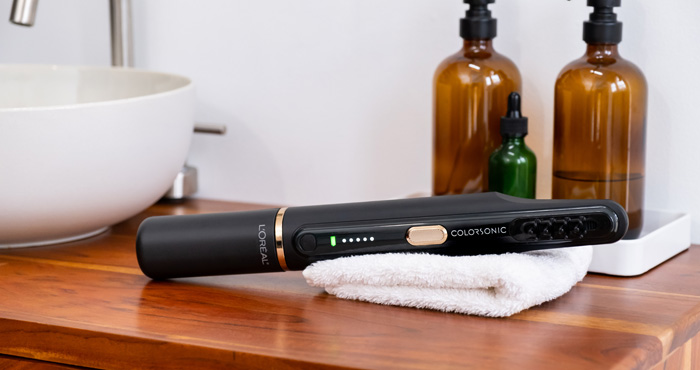 The Colorsonic mixes your color and guides you through an even application, eliminating the mess. The lightweight handheld device looks similar to a curling iron, except there's a brush with bristles at the end. The color comes in cartridges that contain ammonia-free color and developer stored separately to keep the color fresh.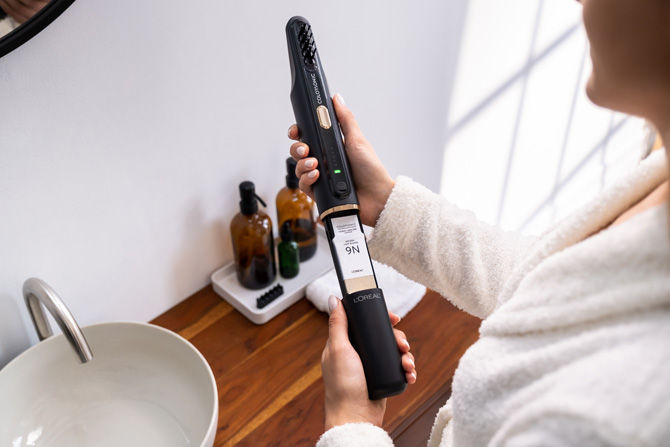 When you turn on the Colorsonic, it precisely mixes the color and developer to create the right formula. The color dispenses from the cartridge through small holes in the brush bristles. As the bristles oscillate and move in a zigzag pattern, they evenly distribute the color through your hair. All you have to do is comb your hair from top to bottom for an even application. The nozzle moves 300 times per minute to prevent leaking, over-saturating, and dripping. The color then sets for 30 minutes before you can rinse.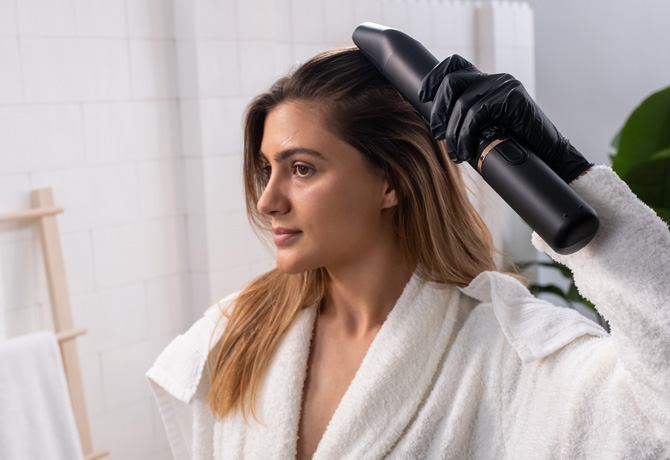 When your at-home salon day is done, you remove the color cartridge from the device and can save any remaining product for future touch-ups. Clean-up is easy. You fill the cleaning cartridge with water, insert it into the Colorsonic and run the device until the water runs clear.
The Colorsonic can be used for semi-permanent and permanent single process coloring. There will be 40 shades to choose from.
After more than seven years in development in L'Oréal's Technology Incubator, Colorsonic will be available in early 2023. No price has been announced, but color cartridges are expected to be "affordable," according to L'Oréal.
L'Oréal predicts more people will be coloring their hair at home post-pandemic, highlighting the importance of this device's sustainable qualities. Instead of driving to a store to buy a box with a plastic bottle and disposable gloves, customers will order their hair color online and have it delivered to the home, shipped in recyclable paper mailers. The cartridges are recyclable, the color can be reserved for more than one session, and the gloves are reusable. L'Oréal anticipates it will save up to 23 tons of waste in glove use alone.
[Image credit: L'Oréal]
Andrea Smith is an award-winning technology broadcast journalist, reporter, and producer. Andrea was the Technology Producer and an on-air Technology contributor at ABC News for over two decades before becoming the Lifestyle Channel Editor at Mashable, where she explored the ways in which real people, not just geeks, began using technology in their everyday lives.