Smart lights like the Philips Hue are incredibly convenient. They're some of the simplest ways to build a smart home, no home improvement skills required: installing them is about as simple as screwing in a lightbulb, and once they're set up you can control your lights with voice commands or a tap on your smartphone. You can automate your home's lighting and, with the right bulbs, even change the color to suit your decor — or just your mood.
But all smart lights come with one major inconvenience: because they simply replace your existing light bulbs, they're reliant on a power switch being turned on. That's fine if your entire household has been trained on the use of your smart light system, but it can be a big problem with kids or houseguests. Switching the light switch off stops all automation, preventing you from controlling your smart lights with your voice or an app.
While you could always tape over the switch — a messy but simple solution — Lutron has come up with an easy, elegant way to solve the light switch problem. The Lutron Aurora smart bulb dimmer looks and works just like an ordinary round dimmer switch — except instead of turning the power on and off, it connects wirelessly to your Hue lights.
The Aurora snaps over your existing light switch, holding the switch in place, so no one accidentally turns the power off. Then it connects wirelessly to your Hue light (via Zigbee), so you can control it with an ordinary wall switch. Not only does this mean no one will accidentally disable your smart lights with the flick of a switch, but it also means that anyone can control the room's lighting. To turn the light on or off, simply press the dimmer, and to dim the light, simply twist it.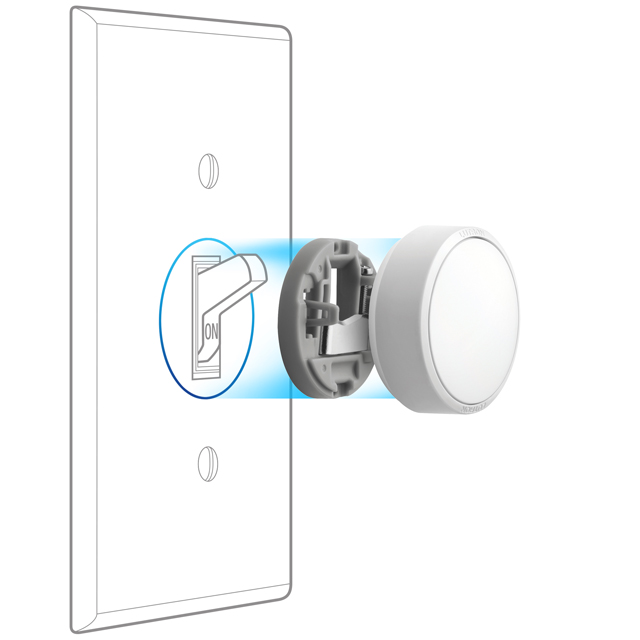 It takes less than two minutes to install, and it connects to your Philips Hue lighting system in seconds — and unlike other smart switches, it doesn't require you to mess with your electrical wiring. While it runs on a battery (it's powered by a single CR2032 coin cell battery), it should last three years, making the Lutron Aurora hassle-free.
If you're looking to add some extra convenience to your Hue smart lights, you can pre-order the Lutron Aurora for $39.95. The Aurora will start shipping in June.
[Image credit: Lutron]