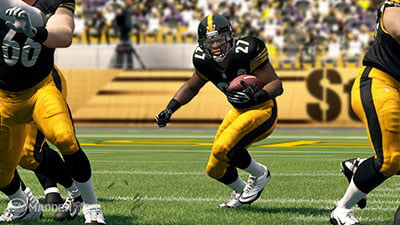 The hot sticky days of summer are coming to an end, the days are getting shorter and kids are ready to head back to school. That can only mean one thing -- football!
With the beginning of football season comes the yearly update to one of the most popular video game franchises, Madden Football. This year it's a celebration of 25 years of scoring digital touchdowns and running virtual teams.
Madden NFL 25, available today for Xbox 360 and PS3 is less a retrospective, and more an update to the franchise, in keeping with past releases. Nevertheless, it's a solid update, including updates to moves and controls for each type of player and and tweaks to the recently-launched Infinity Engine, which drives how players react in games.
The refined Infinity Engine allows for an awareness of proximity, so players respond to the real action. The graphics, of course, continue to improve each year and sometimes even we have a hard time telling if it's real NFL or a video game on the flat screen.
When you think about it, the graphics have seen vast improvements in the 25 years since the game has been around. There's a sense of realism that is just now coming into its own. In the early days, the defender could catch a ball simply by holding his hands up in the air – even if he wasn't looking at the ball. Today's gameplay is much more realistic - now the defender can't make a play on a pass unless he's in correct position and actually looking at the ball.
We particularly applaud this year's introduction of a new member of the Madden broadcast team – Sideline Reporter Danielle Bellini will be joining Jim Nantz and Phil Simms. It may have taken 25 years to get a woman in the broadcast booth but we think that's a touchdown.
Madden NFL 25 is available now for Xbox 360 and PS3 for $59.99 on Amazon and is due this fall for PS4 and Xbox One and available for pre-order for $59.99 on Amazon.