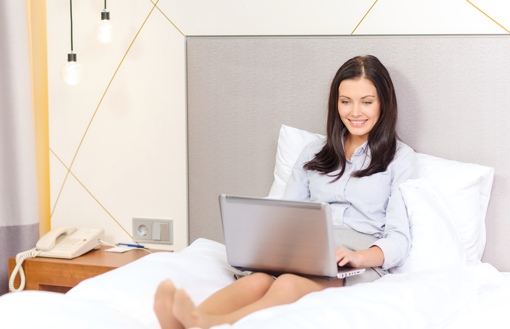 My smartphone is indispensible whenever I travel for work. It's a great tool for keeping in contact. And thanks to its mobile hotspot feature, it's become indispensible for filing stories when Wi-Fi is either unavailable or – as is often the case at many major hotels – prohibitively expensive.
But as much as I love my mobile hotspot, it would appear hotel operators feel differently about the technology. This past week, the Marriott International corporation was fined a whopping $600,000 by the Federal Communications Commission (FCC) for using a jamming system to prevent its customers from using their own mobile hotspots. It then charged these frustrated customers as much as $1,000 per day per device for Internet access – a price that borders on extortion.
According to the FCC, Marriott admitted to using a jammer in at least one of its hotels, the Gaylord Opryland in Nashville, Tennessee. Employees there reportedly used a Wi-Fi monitoring system to locate guest-created hotspots and send them de-authentication packets, forcibly disconnecting and disrupting Internet service. Those visiting the hotel's conference space were especially frequent targets of the scheme, forcing those who needed to connect to agree to the hotel's exorbitant $250 to $1,000 per device hotel Wi-Fi prices.
"Consumers who purchase cellular data plans should be able to use them without fear that their personal Internet connection will be blocked by their hotel or conference center," stated FCC Enforcement Bureau Chief Travis LeBlanc. "It is unacceptable for any hotel to intentionally disable personal hotspots while also charging customers and small businesses high fees to use the hotel's own Wi-Fi network. This practice puts consumers in the untenable position of either paying twice for the same service or forgoing Internet access altogether."
Marriott, for its part, attempted to defend its actions with the laughable notion it was done in the interest of its guests' safety. "Marriott has a strong interest in ensuring when our guests use our Wi-Fi service, they will be protected from rogue wireless hotspots that can cause degraded service, insidious cyber-attacks and identity theft," the company wrote in a statement. "We believe that the Gaylord Opryland's actions were lawful."
While public Wi-Fi hotspots can be home to various threats, creating and connecting to your own password-protected mobile hotspot is absolutely safe. You can turn your iPhone into a mobile hotspot by entering the Settings app, tapping Personal Hotspot and turning the toggle on. You can activate your Android as a mobile hotspot by opening its App Tray, selecting Mobile Hotspot and checking the box. Note that you'll need a compatible cellular data plan to get this to work – those on current AT&T, Verizon and T-Mobile plans have hotspot functionality included for free; those with older unlimited data plans are blocked from using it. Also note that using your phone as a hotspot will eat into your data plan allowance. Other carriers, like Sprint, will let you activate your phone as a mobile hotspot for an additional monthly fee.
[Woman in hotel room with computer via Shutterstock]