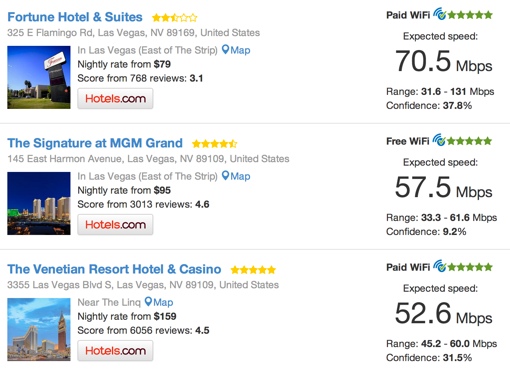 I love traveling, especially during the summer. But even in 2014, it can be hard to reliably stay connected when you're staying at a hotel. Some places charge obscene amounts to access a WiFi network, and when you finally pay up, it's not unusual to see speeds best described as a "virtually unusable."
Thankfully, there's a great new website for tech-savvy travelers called hotelwifitest.com. It's a simple crowdsourced site that ranks hotels in a number of top travel destinations based on their WiFi speeds.
Hotelwifitest.com site offers a wealth of information about each hotel it has speed data for, so you can compare WiFi speeds against room prices and star ratings from guests. It will also tell you whether a connection is free, or whether the hotel will add a fee to your bill to let you use it. You can even book a room through the site (via Hotels.com) if you find a property with the perfect balance.

Hotelwifitest.com's comparison of Las Vegas hotels perfectly illustrates how useful the service is. Book a room at The Venetian and you'll experience killer speeds averaging 52.6 Mbps. But west of the strip at the Rio, speeds top out at 1.3 Mbps, an incredibly slow connection that will make checking in to the office and getting work done a challenge.
There's no fee to use hotelwifitest.com, but the site does encourage you to run your own speedtest once you connect to a hotel WiFi network and share the results with it. The site also encourages you to share your results via social media and with the hotel itself, to hammer home the point that hotel Internet service really does matter to us travelers.