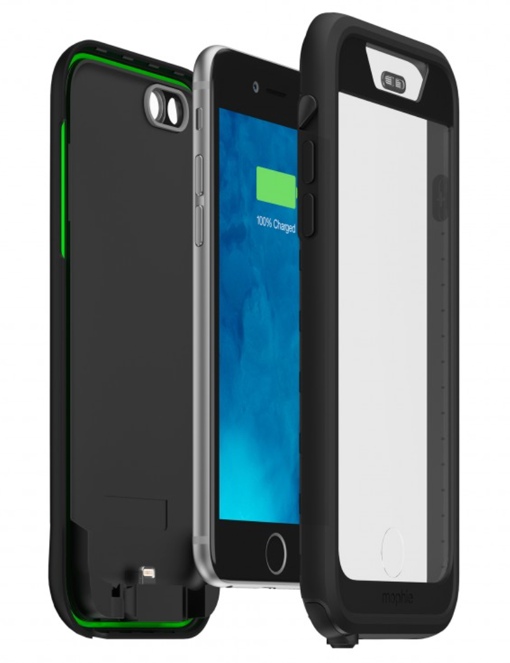 I've been impressed with Mophie's iPhone cases for a while now – the manufacturer does a great job adding compelling features like data storage to them. The latest Mophie case is no exception: Today, the company announced the Juice Pack H2PRO, a waterproof case for the iPhone 6 with a powerful backup battery built in.
The Juice Pack H2PRO owes its waterproof standing to its flexible, scratch-resistant membrane that still allows full use of your iPhone's touch features, including Touch ID. It's rated IP-68, meaning it's both dust tight (complete protection) and tested for water immersion beyond 1 meter. That's one of the best ratings possible (only IP-69K is better). The Jucice Pack H2PRO is well protected against drops too – it exceeds Military Standard 810G for shocks and drops up to 1.2 meters.
Of course, the killer feature here is the Juice Pack H2PRO's massive 2,750 mAh pass-through charge battery. It provides "more than 100% extra battery" life, according to Mophie – enough to offer an additional 10 hours of Internet use, 11 hours of video playback or 14 hours of talk time. As with other Mophie battery cases, there's a tiny LED power indicator at the bottom of the phone so you can quickly gauge its level of charge.
Unfortunately, the Juice Pack H2PRO has two major weaknesses: It's size and weight. The case will more than double your iPhone 6's thickness to 0.69 inch and add an extra three-quarter of an inch to its length. And because the case weighs just over 4 ounces, it will nearly double the weight of your phone. Neither are a major problem, but the added heft and size does take away from the ultrathin design of the phone.
The Mophie Juice Pack H2PRO is now available for pre-order on the Mophie website for $129.95. The device is estimated to ship in late May. To learn more about the case or to place a pre-order, visit the Mophie website.
[Image credit: Mophie]