Fitbit has had a roller coaster of a year so far; while the fitness tracking band company announced its Apple and Android watch competitor, the Fitbit Blaze, it also received bad press after being sued for alleged heart rate tracking inaccuracies in the Charge HR and Surge models. Today, Fitbit announced an additional band is coming to its line, called the Alta.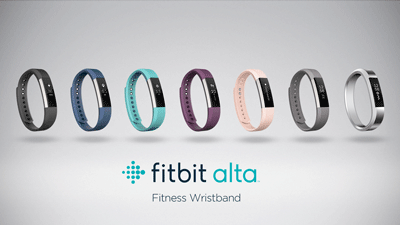 The Alta is designed — in the same vein of the Blaze — to be a more fashionable alternative to Fitbit's other bands. The tracker itself has a thin, silver stainless steel body, OLED display and interchangeable bands that come in a variety of colors and materials. The Alta will also be available in gold stainless steel that the company says is "coming soon."
Fitbit's newest band will have the SmartTrack technology that automatically detects what exercise you're doing, whether it be running, biking, or exercising on an elliptical, so you don't have to remember to pick a particular exercise before starting. The Alta also sends you notifications reminding you to move at least 250 steps per hour, which can be turned off if you're in a meeting or at the movies and can't get up. It can also automatically track your sleep, so you'll always be able to see when your noisy neighbors (or kids) woke you up in the middle of the night.
In addition to its fitness tracking capabilities, the Alta can send you call, text and calendar notifications, as long as it's connected to your phone. The company also says that you can see your stats on iOS, Android and Windows mobile devices as well as computers. And for all of the tracking and notifying power the band has, it still has a battery life of up to five days with a single charge.
The Alta's Classic bands are made for standard workouts (no swimming), and come in black, plum, teal and blue colors. The Alta comes with one of these bands and additional Classic bands are $29.95. If you're looking for something a little more high end, there are Luxe Leather bands that come in Graphite and Blush Pink colors (and Camel soon) for $59.95, as well as a Luxe stainless steel Metal band (and a gold bangle later this year) for $99.95.
The Alta is available for a pre-order price of $129.95 on fitbit.com and Amazon, as well as additional Classic bands and the Leather bands. The devices will ship for U.S. customers in March 2016 and worldwide April 2016.
[Fitbit Alta via Fitbit]