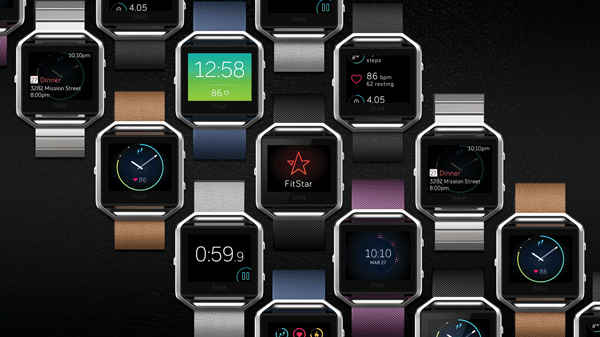 Wearable fitness tracking tech is becoming more and more fashionable, a far cry from the simple bands of yore. Now, Fitbit is catching up to the style of the Apple and Android Watches of the world with its new wearable, the Fitbit Blaze.
The Blaze has a hexagonal color LCD screen that fits into a silver, stainless steel frame and comes standard with a black, blue or plum elastomer band. There are also leather bands that come in black, camel and mist grey, and a silver stainless steel metal link bracelet available for purchase so you can change up your look to add style. It's also water and sweat resistant, but not waterproof. So unfortunately, you definitely can't go swimming with it like the Fitbit Surge.
As for the functionality of the watch, the Blaze has a heart rate monitor, like pretty much every other fitness tracker, as well as sleep tracking and an on-screen workout feature with animations and instructions. Fitbit's new model also has the SmartTrack tech it introduced in a software update for the Charge HR and Surge bands. Essentially, SmartTrack detects 15 different exercises like biking, hiking and running and begins tracking how you're doing in each exercise without you having to do a thing (well, besides exercise). On top of all that, the battery lasts five days.
Besides its style, the Fitbit Blaze encroaches on other popular smart watches' territory by connecting to iOS, Android and Windows smart phones via Bluetooth to serve up call, text and calendar notifications, music controls and GPS functionality. Of course, for these to work, you have to be less than 20 feet away from your phone.
You can preorder the Fitbit Blaze now for $199.95, and it will be available globally in March. As for accessories, the leather bands cost $99.95, while the steel metal link band costs $129.95. The classic elastomer bands are also available in plum, black and blue for $29.95. And if you want to try it out, some U.S. and Canadian Best Buys will have the watches in store on February 20 for preorder, too.
The Fitbit Blaze is a good option for exercise junkies who want to break a sweat and look good doing it. But the $299 Moto 360 and the $349 Apple Watch might be better options for those who want a little bit of fitness tracking but a lot more smart phone app utility.
[Fitbit Blaze via Fitbit]