It is said the best camera you have is the one in your pocket, and increasingly that's meant your smartphone. But digital camera makers including Sony, Fuji and Canon have been producing higher-quality "compact premium" models that also fit in your pocket but produce higher-quality, D-SLR-like results. Nikon now joins these brands with its first two premium pocket cameras, the $799.95 DL18-50 (on the left) and the $649.95 DL24-85 (on the right).
Nikon's entry-level compact premium, the DL24-85, is equipped with a 24-85mm f/1.8-2.8 lens compatible with 40.5mm threaded filters, a modest 3.6x zoom and super macro mode, a tilting 3-inch OLED touchscreen and a hot shoe/accessory shoe. It measures a mere 4.2 x 2.5 x 2.0 inches closed – about two iPhone 6 phones back-to-back – and weighs just 12.3 ounces.
The step-up DL18-50 includes an 18-50mm f/1.8-2.8 wide angle lens compatible with 46mm filters, with 2.8x zoom and a perspective control compensation tool – it corrects distortion on shots of tall buildings or landmarks shot from the ground up, for instance, and includes the same 3-inch tilting OLED touchscreen and hot shoe/accessory shoe. It's a hair deeper and heavier as the DL24-85 at 4.1 x 2.5 x 2.2 inches and 12.8 ounces.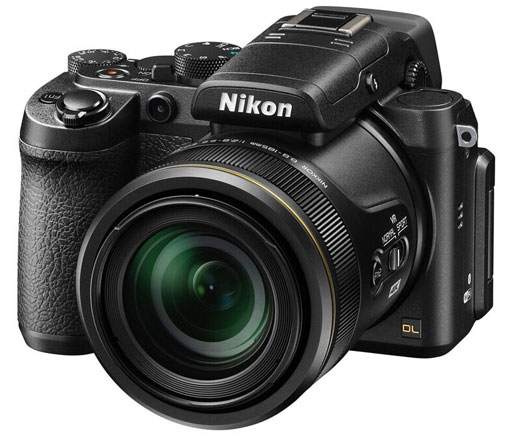 Nikon also announced a higher zoom camera, the DL24-500. With its 21x zoom lens, it may not be as compact as its aforementioned siblings, but it is compact when compared to a comparable D-SLR. It's built with a long 24-500mm f/2.8-5.6 lens, which is compatible with 55mm filters, and has both a built-in 2.3 million dot electronic viewfinder and Nikon's 3-inch tilt/swivel Vari-angle OLED touchscreen. At 4.9 x 3.6 x 5.5 inches and 27.6 ounces, it's also a bit thicker and heftier than its DL-series siblings.
All three premium compact models include a plethora of high-end features and functions including:
20.8MP CX-format 1-inch BSI sensor
Nikkor lenses with dual-detect optical vibration reduction (VR) and manual focus rings
105-to-171-point hybrid autofocus, depending on mode
up to 20fps burst mode; up to 60 fps with fixed focus
30p 4K video recording with simultanenous stills
varying slow motion modes
NEFF RAW file capture
PSAM manual controls
Nikon's SnapBridge "always on" Bluetooth connection to a smartphone for photo transfer and sharing, as well as NFC and Wi-Fi
time and location synced to all images
smartphone remote control
340 shots per battery charge, or 55-60 minutes video recording time
The first two DL models will compete against premium compact cameras such as Sony's varying RX100 models (starting at $398 on Amazon), Canon's G-series shooters (starting at $379 on Amazon), Fuji's X100T ($1,099 on Amazon), and Panasonic's pending Lumix ZS100 ($700). All of the DL models will go on sale in the summer.
Nikon's three new more traditional – and less pricy – Coolpix models include the:
B500 ($299.95), which runs on two AA batteries, and has a 16MP lens and 40x optical zoom, a 3-inch tilting LCD screen and 1080p high-def video recording with Nikon's SnapBridge Bluetooth connecting technology, available in black or red
A900 ($349.95), a slim 20.3MP model with a 35x optical zoom 24mm lens, a 3-inch tilting LCD screen, 4K video recording and SnapBridge, available in either silver or black
B700 ($499.95) super zoom, which also sports a 20.3MP sensor with RAW capture, a 60x optical zoom, 4K video recording, a 3-inch Vari-angle LCD screen and SnapBridge
These Coolpix models which will go on sale next month.
[Image credit: Nikon]