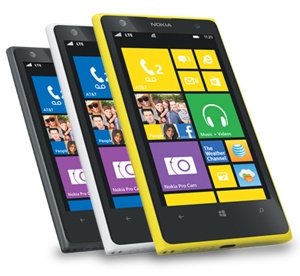 When cellphones first started having cameras built in a decade ago, it felt like a novelty. After all, there was no Instagram yet, and flip phones didn't exactly come with a Facebook app. Now, in 2013, no company would dare manufacture a phone without a camera built in – it's just expected these days.
Given how popular an activity that taking smartphone photos is, you'd think that someone would create a device with a serious focus on professional-looking photos. Well, Nokia did last year, with the Nokia 808 Pureview, and after meeting much success overseas, the company is finally ready to bring a pro-grade cameraphone to the U.S. Meet the Nokia Lumia 1020, a Windows Phone 8 device with a stunning 41-megapixel camera.
The Lumia 1020 takes photos seriously – very seriously. It features ZEISS optics with six physical lenses, an incredibly powerful zoom feature, image stabilization, and a pretty striking ability to take good-looking low-light photos. It comes pre-installed with the Nokia Pro Camera app that allows you to change flash settings, shutter speeds, ISO, white balance, exposure and a number of other key must-have professional camera features. And, of course, it takes 1080p HD video as well, but uniquely with the ability to zoom in to 4x without losing picture quality.
The 1020 is a Windows Phone 8 device, and if that gives you pause, you can be forgiven – the third-place phone operating system simply doesn't have the selection of apps available that both Android and iPhone do. But that's changing as a result of this phone, which should tell you what a big deal this device is expected to be. According to Nokia, apps like Path and Vine will soon be coming to Windows Phone 8, and third-party app developers Hipstamatic, Vyclone, CNN, Foursquare, Yelp, Panagraph and SNAPCAM are all working on unique imaging applications to take full advantage of the Lumia 1020's feature set.
The cameraphone will go on sale at AT&T on July 26 at a $299 price point (with a two-year contract) and on pre-sale on July 16 (Update 9/4/13: Available now on Amazon.com for $100 off the AT&T price for $199.99). That's pretty expensive for a smartphone these days, but this is hardly your typical smartphone. This is a solid, 41-megapixel camera with photo-editing tools and a 4G LTE connection at one heck of a great price. For digitally conscious camera enthusiasts, it's definitely worth checking out.