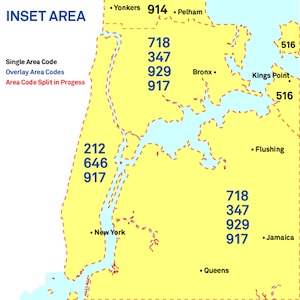 You can tell a lot about a phone number from its area code. Those living in Manhattan understand the value of a 212 area code, and beachside Los Angeles residents treat the 310 area code like its made of gold. They're not just numbers. They're codes that immediately evoke a geographical area.
But this could all soon change if Vonage, a company that facilitates phone calls over the Internet, gets its way. It has been lobbying the Federal Communications Commission to sever the ties between area codes and locations, allowing Vonage to offer any unused phone number to any person in the country. FCC Chair Julius Genachowski supports the move, stating that any entity that provides communications should have access to the bank of available numbers.
As things currently stand, a large number of middlemen separate you from your phone number of choice. Certain phone companies currently own exclusive access to the nation's most desirable area codes, like New York City's 212. This allows the area code to be sold at a huge premium – getting a 212 number can run you anywhere from $50 to as much as $850,000 for very specific ten-digit combinations. Though there may be as many as a million unused 212 numbers, getting one requires knowing who to ask and a big bank account.
Disconnecting area codes from the areas they originally represented may be an idea whose time has come – the country's growing reliance on mobile phones suggests we outgrew area codes long ago. People often keep their cell numbers when they move, and customers of major carriers can usually get an out-of-state area code just by requesting it.
If you had a choice, would grab a high-profile area code or are you proud to keep the one you've had for years?