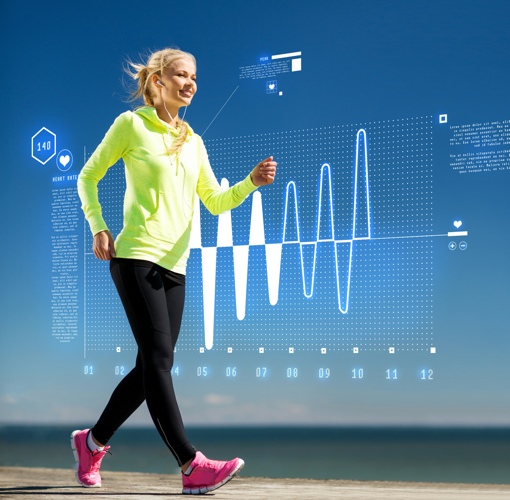 Earlier in the year, we reported that health insurance companies are increasingly looking towards providing free activity monitors as a way to encourage their subscribers to stay physically fit. It's a win-win: You get a new gadget and improved health; your insurer benefits through reduced healthcare-related costs. Now, a private health insurer named Oscar is taking the concept one step further: Not only do those who sign up get free activity monitors, but the company will actually pay you to meet modest fitness goals with the device by walking more and staying active.
"We were fascinated with the U.S. Surgeon General's recommendation that if you walk around 10,000 steps a day, you will have a real impact on almost all the top killers in the U.S., like obesity, diabetes, and high blood pressure," Oscar Insurance co-founder Mario Schlosser told Fast Company. "If you just get a bit more physically active, you can avoid those conditions getting worse, or make them better."
Here are the basics of how the plan works. When you sign up for an insurance plan with the company at any level (bronze through platinum), you'll get a free Misfit Flash activity tracker in the mail. You then download an app on your smartphone and sync the device, which tracks your steps and reports back to the insurance company. You'll earn $1 in credit every time you meet your goal, up to a maximum of $20 per month ($240 per year). Payments are made in the form of Amazon gift cards and there's no penalty for failing to reach your goals.
Your daily walking goals start off light – it takes just 2,000 steps to earn your first dollar. As you increase your level of fitness and activity, your goal slowly increases to the maximum of 10,000 steps. That's no small challenge, but having a financial benefit tied to the fitness benefits of walking may encourage you to stick with your fitness routine.
Oscar Insurance currently operates in the states of New York and New Jersey. If you'd like to learn more about the company's activity rewards (including a $400 yearly gym credit), visit its website at www.hioscar.com. For more on fitness tracking, check out our picks for the five best activity monitors under $50.
[Woman walking with fitness tracker via Shutterstock]