I've been testing and using Panasonic shavers for years, and I'm a Star Wars fan, but I never thought those paths would cross. Now they have, with the release of Panasonic's Stormtrooper ARC3 shaver (ES-SWLT2W), inspired by the iconic Star Wars stormtrooper armor. I've been testing a review unit for the past week and, to quote Emperor Palpatine, this new shaver is good, good.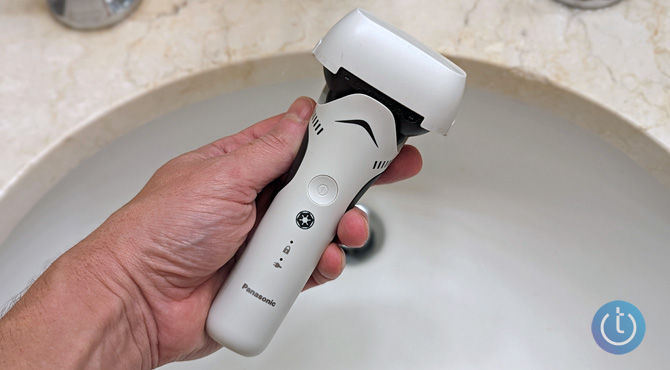 Empire design protocols
The stormtrooper-inspired aesthetics immediately stand out to any Star Wars aficionado. Panasonic and Lucas Films did an admirable job of mashing two completely different genres into one sharp-looking device. The colors, design elements, and even the power button logo clearly indicate that this shaver belongs to the Empire – rebel scum need not apply.
However, given that I'm Obi-Wan Kenobi old (yes, I stood in line at the theater in 1977 with my parents to see Star Wars IV: A New Hope), would a newer generation of fans have the same positive reaction to a Star Wars shaver? To answer that, I turned to my 15-year-old padawan, whose enthusiastic "Is that a shaver? That's cool!" confirmed this was the case.
Attack specifications
The Stormtrooper ARC3 shares its beard attack specifications with other shavers from the ARC3 line-up. To transform your face from Chewbacca furry to Luke Skywalker smooth, there are three blades and a high-end motor that Panasonic claims delivers 39,000 cutting actions per minute. There is also responsive beard sensor technology that is meant to sense where beard growth is heavy and reduce power to prevent skin irritation.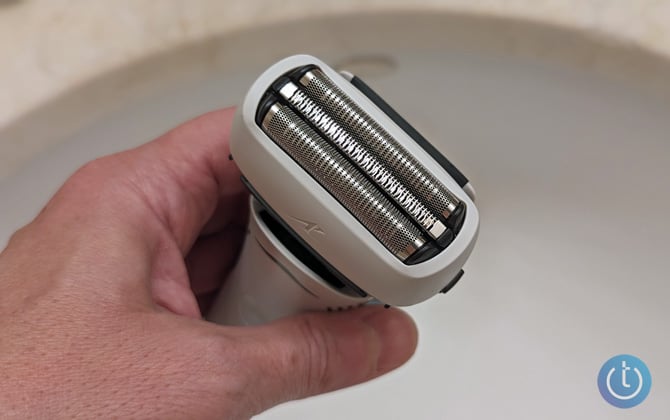 While I wasn't able to count each of those 39,000 cutting actions, the results on my face proved the ARC3 provides a quick, clean shave with no skin irritation. And to be honest, this wasn't a surprise. I tested my first ARC3 nearly a decade ago, and have since tested numerous other shavers from the Panasonic line-up, from the top-of-the-line Panasonic ARC6 to the functionally quirky (in a good way) Multishape, and they're all excellent.
The Stormtrooper ARC3 also has a pop-up beard trimmer and is wet-dry compatible for use in the shower or while trapped in your starbase's trash compactor unit.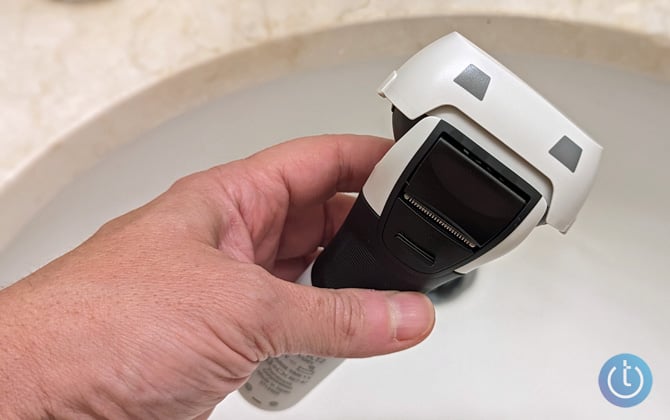 The Lithium-ion battery provides up to 45 minutes of shaving time and can be fully charged in an hour.
The Rebel threat
While the Stormtrooper ARC3 is a formidable weapon, it still must battle against competing forces, some of which are in Panasonic's own squadron. And much like in the movies, where heavily armored stormtroopers fall by the bushel against lightly armed rebels, here, too, the Lucas-licensed armor shows its weaknesses.
Whether because of licensing fees, Panasonic trying to recoup design costs, or predictions that Star Wars fans will be willing to pay a significant premium for the design, the Stormtrooper ARC3 will be hitting the street at a price of $149.99. That's quite a bit above the standard Panasonic ARC3's current selling price on Amazon of around $94, especially when you consider that the standard ARC3 also offers a twelve-direction rotating head and a 5-level LED battery status indicator.
The Verdict
Panasonic's Stormtrooper ARC3 (ES-SWLT2W) is more than just a grooming device; it's a statement. It tells the world that you can be a fan and still demand the best in personal grooming. For those in the market for a new shaver this holiday season, whether for personal use or as a gift, the ARC3 is a standout choice.
Available at Best Buy now and on shop.panasonic.com and Amazon from November 1, priced at $149.99.
[Image credit: Techlicious]
Josh Kirschner is the co-founder of Techlicious and has been covering consumer tech for more than a decade. Josh started his first company while still in college, a consumer electronics retailer focused on students. His writing has been featured in Today.com, NBC News and Time.