We may earn commissions when you buy from links on our site. Why you can trust us.

Review: The Panasonic Arc6 Shaver is a Lawnmower for Your Face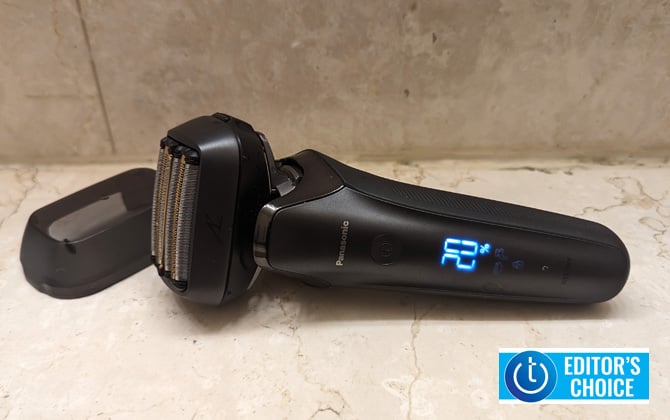 In the world of electric shavers, Panasonic has always been at the forefront of performance. In reviewing various models over the years, from the entry-level Arc3 to the flagship Arc5, we've always come away impressed.
This year, Panasonic released the Arc6 in the U.S. as its new flagship model (released in Japan in 2021 as the Lamdash6). The Arc6, as its name suggests, now has six cutting blades – two titanium-coated blades designed to cut thick stubble, two stainless steel "finish blades," and two lifting/cutting blades for longer hair. According to Panasonic, the large shaving head (about the same size as the Arc5) moves in 22 independent directions to maintain close contact with your skin as you go over your various facial hills and valleys.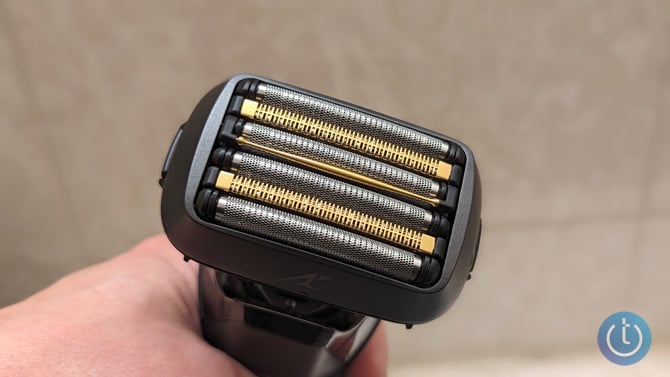 There are two models of the Arc6 available: The ES-LS8A-K is a shaver-only model that retails for $399.99, and the ES-LS9A-K includes an integrated charging and cleaning station for $499.99. Yes, you read those prices correctly – if that's a deal-breaker, you may want to stop reading now. Both are wet/dry compatible and include a hard-shell travel case, a cleaning brush, and a vial of lubrication oil.
Shaving performance
I've been testing the Arc6 for the last few months alongside a couple of other Panasonic shaver models (and a straight razor to bring out my manly side). And, once again, Panasonic showed why it deserves recognition as one of the two top shaver makers alongside a very competitive Braun. The Arc6 was like a lawnmower for my face (in a good way), able to slice through short and medium-length hairs and leave behind smooth skin that's as close as shaving with the straight razor. So if you're looking for the absolute best electric shaver, and price is no object, the Arc6 is the one.
The Arc6 is also very comfortable to use. The moving head feels natural – not too much or too little give – and I never had an issue with any hair pulling, even with nearly a week of growth. Nor did I ever experience any razor burn with the Arc6.
Operation is quieter than the Arc5. And, while I couldn't compare head-to-head, users report it is quieter than the Braun Series 9.
But the Arc6 isn't without some compromises that may not make it the best choice for everyone. If you're working from home and regularly let your whiskers grow more than 3-4 days, the Arc6 will struggle with those longer lengths. Pre-cutting is advisable with the built-in trimmer. Of course, other shavers will struggle with the length, as well. So if this is you, you might want to consider The new Panasonic Multishape Grooming kit I was testing simultaneously with the Arc6. The modular kit offers a more robust trimmer and a shaver head that delivers a perfectly acceptable shave, if not quite up to Arc6 level.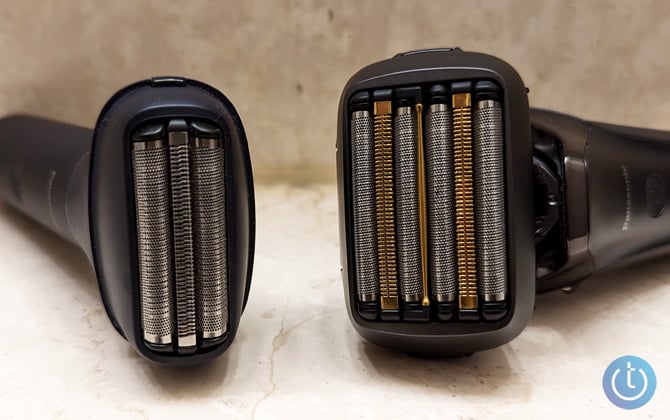 The large head on the Arc6 can also be a big plus or minus, depending on your beardedness. If you're a clean-shaven guy, that six-foil head can quickly cover a lot of ground, making shaving a dream. But if you're working that metrosexual face growth like I am, the wide frame around the foil can make it tricky to get in close without fear of trespassing into beard territory. So again, the Panasonic Multishape Grooming kit is a good option here, or even Panasonic's smaller yet mighty, Arc3.
Battery life
The battery life on the Arc6 is disappointing. My normal shaves regularly took 10% off the battery capacity, and that could get up to 15% if I spent time trimming longer hairs. I also noticed battery life trickle away during non-use, which really shouldn't be happening in the short term with a Li-ion battery. Of course, this won't matter for most people because you will have the shaver constantly charging on your bathroom sink. But if you're going on a long trip of a week or more, make sure to bring your charger with you.
Cleaning & Maintenance
The cleaning stand for the ES-LS9A-K uses packets of proprietary Panasonic cleaning/lubrication fluid. One packet is included in the box and will last about a month. Replacement packets are around $4 a piece on Amazon. Alternatively, both Arc6 models have a sonic cleaning mode that lets you clean it effectively using water and a little hand soap. Just be sure to give it a little lube after with the included oil.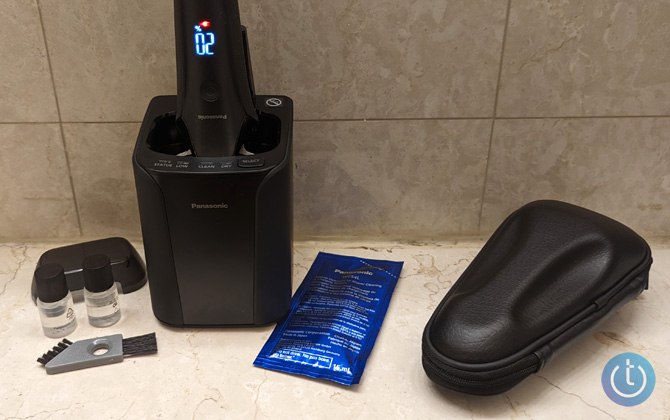 Panasonic recommends changing the shaving blades every 18 months under normal use. However, unlike prior Panasonic models, where you could replace the blades on their own, the blades on the Arc6 are integrated with the foils and shaving head as a single unit. And replacing this piece will set you back a whopping $115.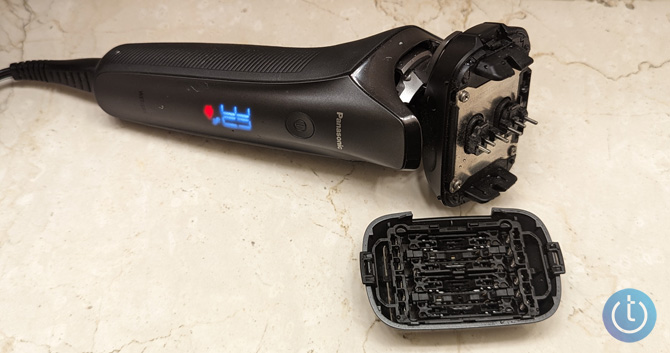 Summary
The Panasonic Arc6 (starting at $399.99, check price on Amazon) may be the best shaver on the market. It glides through hairs, leaving smooth skin behind. And never once did I experience any razor burn or pulling while using it. And the added benefit of quiet operation makes for a less jarring morning routine. If money were no object, it is the shaver I recommend for most people.
But if you don't have (very) deep pockets, the Panasonic Arc5 (ES-LV65), which we reviewed and loved, provides a nearly equivalent shave, and you can pick one up for $200 less on Amazon. Similarly, the excellent Braun Series 9 with a cleaning station (9477cc) comes in at $100 less and may be a better option for those with beards, as it has a smaller head that will provide a little more visibility when shaving.
As prices drop for the Arc6 in the future (and I'm confident they will), this value equation will shift further to the Arc6's favor.


[Image credit: Josh Kirschner/Techlicious]
Josh Kirschner is the co-founder of Techlicious and has been covering consumer tech for more than a decade. Josh started his first company while still in college, a consumer electronics retailer focused on students. His writing has been featured in Today.com, NBC News and Time.
---
Discussion