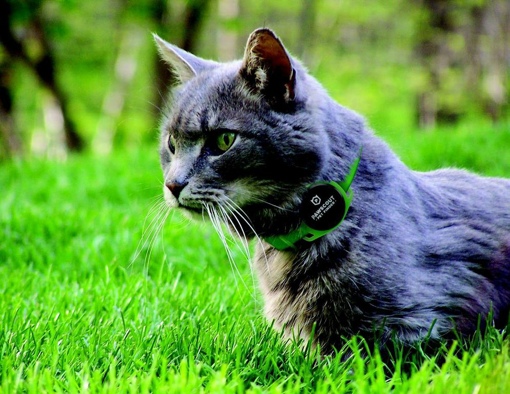 Having a pet run away from home can be an absolutely traumatizing experience, especially given how hard they can be to find. As we've discussed before, lost pets only have a 10% recovery rate, so anything we can do to improve those odds is welcome. That's why I like the Pawscout Pet Finder. It's a new dogtag-replacement tracking device that will help you pinpoint your animal's location any time it's within a 200-foot radius of your phone or any other phone running the Pawscout app.
If you are unfortunate enough to have your pet run away – or if your pet simply wanders beyond its 200-foot virtual leash limit – the Pawscout network immediately goes to work to help you find him. Anytime you or another Pawscout user is within 200 feet of the missing animal, an alert will be sent to you via the Pawscout app. That information can then be used to hone in radar-style, helping you locate your cat or dog even if they're scared and in hiding. You can also leave virtual notes and care instructions for your pet.
The waterproof Pawscout Pet Finder attaches to any pet collar with an included D-ring mount, available in four different colors. Because the device has a twelve-month battery life, there's no need to disturb your pet by constantly removing and recharging the device. You can even order a custom engraved nameplate with your pet's name and address, printed on one of five designer backgrounds, to serve as a replacement for a traditional dogtag.
The Pawscout may not be a true GPS-enabled tracker, but that's okay – if it was, it wouldn't have this crucial level of battery life. It won't get you your lost pet back instantly, but it will definitely assist with any search effort you make. It may very well be worth the peace of mind it can provide at this price.
The Pawscout Pet Finder is expected to ship by February 2015 and will be compatible with both Android and iOS devices. It retails for $29.95, with no monthly fees required. Pre-orders for the Pawscout placed before the end of the year will get a free custom-engraved nameplate and a flush-mount kit for a more secure fit to your pet. You can learn more about the device or place your own order by visiting pawscout.com.