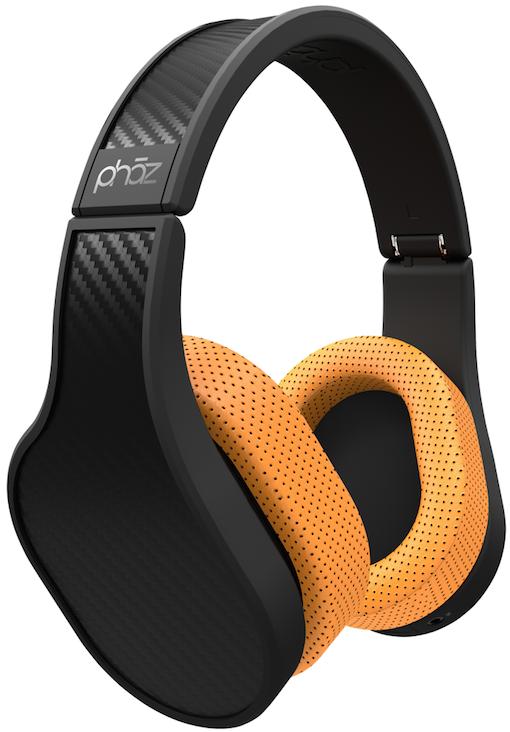 Just when you want to listen to music on your smartphone or MP3 player, you realize it's low on power and you don't have a portable battery handy. But what if your headphones charged your battery rather than drained it? The new Phāz P2 Bluetooth headphones manage to double as a portable battery for your device without sacrificing sound or style.
How does it work?
At the outset, the P2s look just like any other wireless headphones with their own built-in, rechargeable lithium-ion battery. What makes these over-the-ear cans unique is Phāz Music's patented technology that shares the headphones' power with whatever device that is plugged into their USB port. The P2s use only 10 percent of their own 1200mAh battery, leaving the rest of the juice for charging your music source.
Not only are the P2s energy efficient, but they also pack powerful sound thanks to premium 40mm drivers with neodymium magnets. We listened to these headphones briefly at CES this week and were pleasantly surprised by their balanced tone and strong bass, especially when the Phāz rep turned on the 15-decibel bass boost with the push of a button. Depending what type of music you're listening to, you probably won't need to turn on the bass boost unless you're rocking to something with a heavy bass.
Comfortable and functional
What was even more surprising was how light these headphones felt on our heads. The P2s are made mostly of carbon fiber for both lightness and strength, using stainless steel hinges to make the headphones compact enough to tote in your bag. While the band is quite adjustable to different head sizes, it didn't squeeze uncomfortably, so the P2s should be good for long jam sessions. The soft leather ear cups are extra comfortable and come in a range of bold colors (orange, green, pink, black and purple) that can be easily removed for cleaning or swapping in a different color.
Since the P2's technologies are integrated seamlessly into the device, you probably wouldn't notice all the ports and buttons unless you look at the bottom of the headphones. On the left side is the bass boost button and a USB charging port behind a rubber door. There's also an audio jack in case the headphones are out of power; you can still plug your music device directly into the P2 for old-school, wired entertainment. The P2's power button, headphone charging port and audio out port are located on the right side. The audio out port lets a friend share your music by plugging into your headphones, rather than directly into your music source.
Pricing and availability
The Phāz P2 is available for preorders now from Phāz Music for $249. The P2 headphones are anticipated to ship in April 2015.
[Image credit: Phāz Music]