The Best Portable Battery Charger
Techlicious editors independently review products. To help support our mission, we may earn affiliate commissions from links contained on this page.
Review summary: With its built-in cables, flexible recharging options and compact style, the myCharge Hub 9000 has everything you need in a portable charger.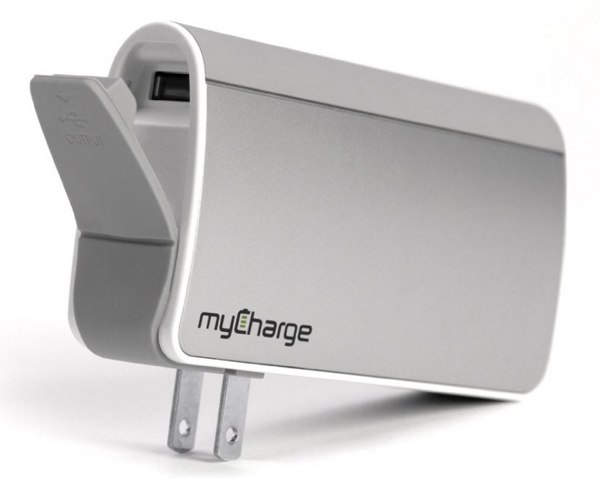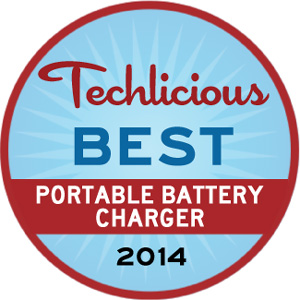 At a recent press briefing, a fellow reporter asked if anyone had an Apple Lightning cable so he could recharge his iPhone. Unbelievably, in a room full of tech geeks, no one had one except me — and yes, I happily loaned him what he needed. Even better, it was built into the myCharge Hub 9000, a 9,000-milliamp portable battery pack that in my estimation is the best portable battery pack on the market.
How do you pick the best battery pack when there are literally hundreds of portable battery packs to choose from? To narrow down the choices, I applied specific criteria to help determine the best all-around portable charger. A charger shouldn't require any extra cables to charge either your devices or itself. It should be able to charge more than one device simultaneously, including tablets, and hold enough power to fully charge at least two devices.
There are only three devices that meet these criteria, and two of them come from myCharge (at 9000mAh and 6000mAh capacities). The other is the 6000mAh New Trent ChargePak NT600C.
Cutting the cables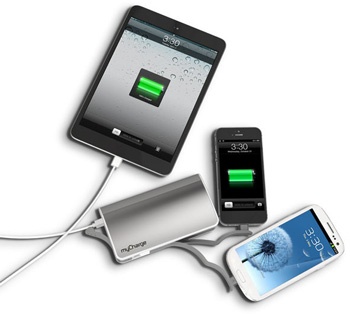 The Hub 9000 includes built-in Lightning and micro-USB jacks along with a standard USB jack in case your device requires a proprietary charging jack (say, a 30-pin Apple charger for older iPhones and iPads). The New Trent ChargePack NT600C has only a micro-USB connection, making it less versatile.
How do you recharge the Hub? Most other portable battery packs recharge via a built-in micro-USB jack that has to be plugged into an adapter and then into an AC outlet, like you do with a smartphone. That means carrying not only the battery pack and device charging cables but also a separate cable in order to ensure you can rejuice your emergency juice pack on the go. The Hub, however, includes a built-in, flip-down two-prong AC jack. You can recharge Hub's battery nearly anywhere — no extra cable necessary — although it takes five hours to achieve a full refill.
All the built-in connectors fit neatly into compartments or niches in the Hub's sides, each protected by a rubber cover, creating an emergency power solution that's smooth to use and easy to chuck into your bag.
Size and weight
At 10.6 ounces (about twice the weight of an average smartphone) and 5.2" x 3" x 1.3", the myCharge Hub 9000 is only a bit bulkier than portable chargers of a similar capacity that include no cables. When you factor in no extra cables, the Hub 9000 is a winner.
When compared to the lower capacity myCharge Hub 6000, you save only 1.3 ounces and a fraction of an inch all around versus the 9000. So an extra $10 for a whole phone's worth of extra charge using the 9000 mAh version is worth it.
Charging power
How much juice does the Hub 9000 provide? The iPhone 5S is reported to require 1,570 mAh for a full charge, meaning the Hub 9000 can supply nearly six recharges. Any of the newest phablets, such as the curved LG Flex, are powered by 3,000-plus mAh batteries; the iPad Mini includes a 4,490mAh cell, the iPad Air an 8,820 mAh battery and the previous iPad a hefty 11,560mAh battery. You can do the recharge math.
The Hub 9000's integrated Lightning and micro-USB jacks supply enough amperage (1 amp) to charge a smartphone or small tablet such as the iPad Mini. If you need to charge a full-sized tablet that requires twice the amperage, you'll need to plug in a separate USB cable.
Charging time
The Hub 9000 is not only convenient but fast. It can recharge a completely dead iPhone 5S in less than two hours, although the phone itself won't give any indication that it is charging until it reaches about 4 percent of battery life.
How does this charge time compare to other portable chargers? Portable charger makers don't list charge times, since different mobile devices charge at different speeds depending on their battery capacity and charging technologies, and we didn't test each of the hundred other portable chargers. But by way of some comparison, an iPhone plugged into AC power takes the same two hours as with the Hub to completely charge from dead. Obviously, a device with a larger battery takes a bit longer to regenerate.
The Hub 9000 can recharge multiple devices simultaneously, even if the arrangement of its built-in cables can result in a pretzel-like configuration. Hey, if the cables were too long and flexible, you'd end up with the same spaghetti cable mess you'd have had if you'd bought a non-Hub battery pack.
Charging two smartphones simultaneous with the Hub slows the charging process only imperceptibly. Adding a third device via the USB jack (like that's gonna happen a lot) more noticeably slows the flow. If a multiple charging situation arises, you may be better off limiting yourself to two devices at a time.
Whatever minor inconveniences the jack amperage, cable flexibility or simultaneous charging present, these are mere quibbles when measured against the Hub's all-encompassing emergency charging convenience.
What other pros are saying
I'm not alone in my appreciation of the myCharge's capabilities.
Nick Guy at iLounge agrees that the Hub is "one of the most well-designed and useful external battery packs we've seen in quite a while," while Sarah Van Boerum at Tech Bargains "loved being able to charge up to three devices at one time without having to worry about cable tangle or having to tow the right cables along. Each port is also labeled so you know which device goes where without having to open up each one. … Unlike many portable battery makers, the folks at myCharge just seem to build nicer and sturdier battery packs."
Kien Tran at Geek Beat TV found that "the MyCharge was a device I used constantly. Being able to just plug it into the wall without the need to bring additional USB wall chargers or cables is immensely useful." Jason Cipriani at TechDad Review agrees: "What makes the Hub one of my favorite products by myCharge is the built-in wall prongs to directly plug the unit in and charge it without cables."
Owner revviews have also been strong. The myCharge garners a 4.2 out of 5 star rating on Amazon.
Final call
While any portable charger should provide basic charging needs, the myCharge 9000 with its fully-integrated charging and super-high charging capacity is my pick for the best one on the market. It's the one I carry and the one I recommend you do, too.
myCharge Hub 9000


Discussion