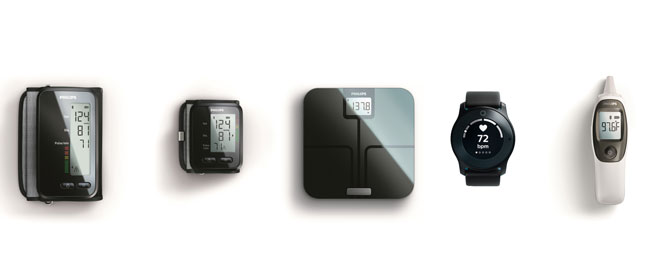 The consumer health and fitness tracking wearable market has become fairly saturated in past few years as companies like Fitbit, Misfit, Apple and Samsung integrate that functionality into their devices. One company even created a fitness tracking bra! Philips, though, is aiming directly at the connected health market, with medical-grade devices aimed at helping you get and stay healthy.
Philips will be launching a number of new gadgets, including a health watch, an upper arm blood pressure monitor, a wrist blood pressure monitor, a body analysis scale and an ear thermometer, along with the HealthSuite Health app for iOS and Android.
The big player here is the health watch, which includes an optical heart rate monitor and accelerometer for fitness tracking. The watch is able to measure resting respiration rate as well as automatic activity tracking for walking, biking and running and sleep. Philips says it combines heart rate monitoring and activity recognition to create a precise estimate of calorie burn, which a user can visualize in the HealthSuite Health app. As for its looks and non-health-related features, the health watch will have a stainless steel housing, an always-on display and an interactive touch ring; the watch is splash and rain proof (you can't take it swimming, though) and its battery lasts up to four days. The Philips health watch will be available to purchase today for $249.
The upper arm and wrist blood pressure monitors are rechargeable via USB and don't have the weight and clumsiness of the typical unit you'd find at the doctor's office. In addition, these devices measure heart rate and connect to Philips' app. The upper arm version will cost $99.99 and the wrist version will cost $89.99 and is available today.
The body analysis scale doesn't just measure your weight—it also calculates BMI and is able to estimate body fat percentage, displaying these on the app. Up to eight adults can create their own profiles with the device. The scale will cost $99.99, comes in black or white models and is available starting today.
Finally, the Philips ear thermometer can give an accurate temperature reading for newborns, children and adults alike in fewer than two seconds. This info is then transmitted wirelessly to the Philips HealthSuite Health app. The thermometer will cost $59.99 and is available today.
Each blood pressure monitor scale and thermometer is individually calibrated in the lab before shipment, with the thermometer even being tested by an external firm to determine accuracy. Philips has experience creating healthcare products for the commercial sector, as well as consumers. We covered Philips DirectLife back in 2010, so you can expect that this knowledge will inform these new consumer ventures.
Philips is hoping their new wearable devices will be able to help people who have or are at risk of developing a chronic disease monitor their health and make positive, permanent lifestyle changes.
[Images via Philips]