Pickleball is on the rise, with 48.3 million adults engaging in the activity, according to the Association of Pickleball Professionals, but is it as healthy as tennis? The Apple Heart and Movement Study, using the Apple Watch, has shed light on the popularity and significant health benefits associated with playing pickleball and compared these benefits to those of tennis.
Since the launch of Watch OS 7 in September 2020, Apple users have been able to select pickleball as a type of sport, and it is this feature that was used to gather data for the study. The analysis of more than 250,000 pickleball and tennis workouts revealed some interesting statistically significant differences.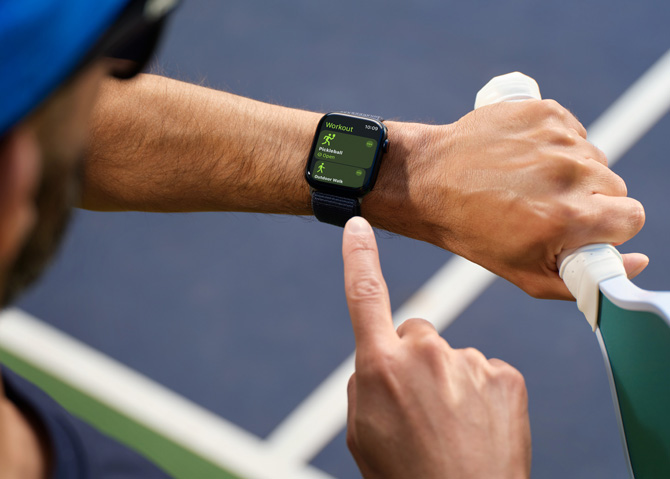 Read more: Find out the five reasons why we think you should upgrade to the Apple Watch 9.
The study documented the ascension of pickleball's popularity, which surpassed tennis workouts for the first time in July 2023. The state with the highest recorded pickleball workouts per capita was Utah, with about one in every 16 study participants trying the sport at least once.
Both sports engaged participants to an extent where they reached approximately 70% of their maximum heart rate, which is considered moderate intensity. However, pickleball sessions, on average, clocked in at 90 minutes, slightly edging out tennis, which averaged 81 minutes. While tennis exhibited a higher intensity, with an average peak heart rate of 152 beats per minute, pickleball showed a slightly lower intensity, with an average peak heart rate of 143 beats per minute.
The study also ventured into the realm of mental health, offering participants an optional mental health survey. Although instances of a depressed mood were rare across the board, the data illustrated a lower propensity for depressive mood among frequent pickleball and tennis players, hinting at the positive mental health repercussions of regular physical activity.
Interested in tracking your own pickleball workout with an Apple Watch? We were impressed by the new Apple Watch 9 (starting at $399), which has a unique gesture control that enables you to operate the watch one-handed – useful for answering calls when on the pickleball court.
[Image credit: Apple]
For the past 20+ years, Techlicious founder Suzanne Kantra has been exploring and writing about the world's most exciting and important science and technology issues. Prior to Techlicious, Suzanne was the Technology Editor for Martha Stewart Living Omnimedia and the Senior Technology Editor for Popular Science. Suzanne has been featured on CNN, CBS, and NBC.