If you've been clinging to an older generation Apple Watch, Apple has imbued its new Series 9 models with five improvements that make it easy for you to justify an upgrade. One especially tempts me to upgrade even though I own an otherwise perfectly fine Series 8 model.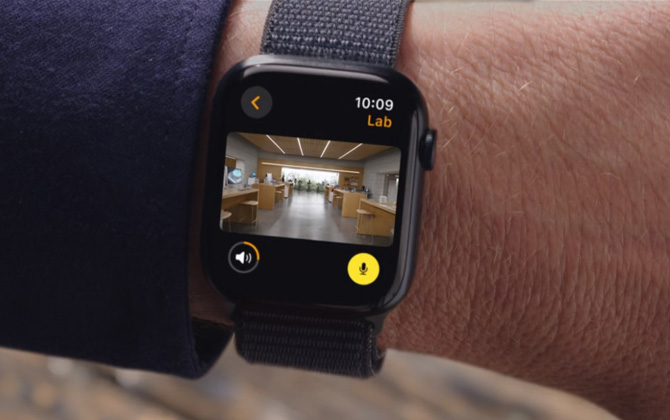 The most enticing upgrade is a new gesture that solves an admittedly first-world problem of needing your off-watch hand to reach across your body to touch your Watch screen to activate common functions. With the Watch 9, you just single or double-tap together the thumb and index finger on your Watch-wearing hand to answer or hang up a phone call, snooze a buzzing alarm, set a timer, pause/play music or video on a connected Apple device, or activate the list of widgets in your Phone's smart stack, to name just a few possible actions. This two-finger tap capability leaves your non-Watch-wearing hand free for whatever it was already doing, such as hanging on to a subway strap, keeping your hand on the wheel of your car, writing, holding a drink, hanging on to your dog's leash, gripping the side of a sheer cliff – or even just holding your iPhone. Admittedly my enthusiasm over this two-finger tap seems a bit over-the-top, but I can't tell you how often during the course of the day this one-handed Watch operation would come in handy.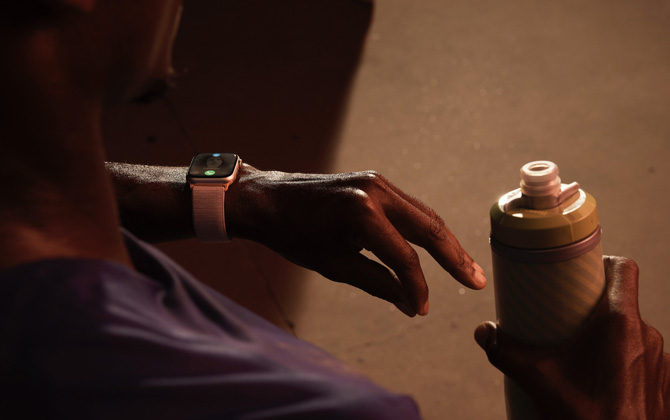 Second, Siri requests will be performed on the Watch instead of via the cloud. You no longer have to wait for the Watch to connect to Apple services, so your commands are performed faster and more accurately and remain completely private since they are sequestered to your Watch. More accurate and secure health and sleep information is also accessible via this new local Siri request starting sometime later this year (English and Mandarin to start).
Third, you'll be able to use Name Drop to swap your contact information easily and wirelessly with another Apple Watch wearer. Name Drop was originally announced in June for use with two iPhones or an iPhone and a Watch. So this Watch-to-Watch transfer, which will come with WatchOS 10 later this year, completes the Apple device Name Drop circuit.
Fourth, the Watch display is twice as bright as the Series 8, which means its screen will be much easier to read in bright sunlight. A brighter screen for your Watch is arguably more important than the increased brightness on the iPhone 15 since we Watch wearers tend to glance at our wrists far more often than at our iPhones.
Fifth and finally, your Watch 9 will give you precise distance and direction info, along with audio and haptic feedback, to locate your misplaced iPhone. No more agonized and frustrated cries of "Where did I put my phone?!"
Watch 9 can provide these real-world functional improvements thanks to the new Apple S9 Watch chip, which is packed with 60 percent more transistors that make the Watch 9 30 percent faster and more accurate for everything you do via your wrist than the previous S8 chip.
In addition to these operational advancements, aesthetically, you can get the Watch 9 in a new pink aluminum along with five other pastel colors or stainless steel in three pigmentations. Apple also touted the new Watch 9 as its first-ever carbon-neutral device, including its packaging, which provides a bit of a salve for environmentally concerned but still copiously consuming guilty consciences.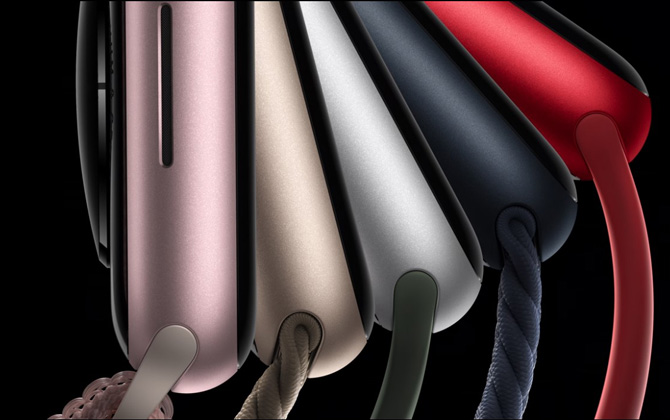 Apple Watch 9 models start at $399 for the GPS-only version and at $499 for the GPS+cellular editions; they're available for pre-order now and become available September 22.
[Image credit: Apple]
Stewart Wolpin has been writing about consumer electronics for more than 35 years, including news, reviews, analysis and history, and has attended and covered nearly 50 Consumer Electronic Shows and around a dozen IFA shows in Berlin. For the Consumer Technology Association (CTA), he is an elector for and writes the official biographies of the annual CT Hall of Fame inductees, and is the keeper of the industry's official history.