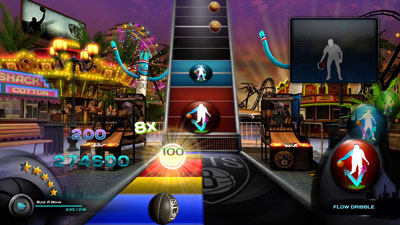 It flies in the face of everything you've heard your parents say growing up, "no balls in the house, go play outside," but thanks to Kinect for the Xbox 360, you may have the last laugh.
Earlier this week, we had the opportunity to experience firsthand a sneak preview of NBA Baller Beats – think of it as Tap Tap Revenge meets Guitar Hero, except that you're standing in front of your living room television, with a real basketball. In fact, NBA Baller Beats is the first video game where you can use a real basketball (a licensed NBA game ball replica from Spalding comes with the game) when you play.
Here's how it works: Kinect technology scans your body and the ball to monitor your body and movements. You bounce the basketball to the rhythm of one of thirty songs interspersed with baller moves like a jump shot, pass, and between the legs moves (we played to "Another One Bites the Dust" and "Music Makes Me Feel So Good"). While you would think you were asking for trouble by playing this game indoors, the reality is that the basketball moves, even when fouled up, won't have the basketball hurdling toward your big screen TV. You may want to set up some cushions around the playing area nonetheless so you don't have to chase it down.
This game will work well on most surfaces, including carpet, as long as you're not sporting 70's style shag. It may be wise to play on some kind of padded surface or in your finished basement if you have to keep down the pounding. For you city dwellers, I hope your downstairs neighbors truly appreciate your mad baller beat skilz.
NBA Baller Beats was a lot of fun to play, challenging, and was a good way to hone your hand-eye coordination skills with a real basketball. The game will retail in stores for $59.00 starting on September 11th and is rated E10+.