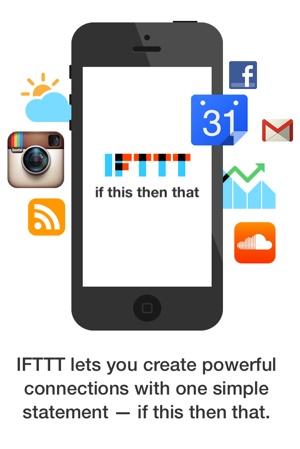 If This Then That (IFTTT), one of the most powerful automation services available on the web that allows you to create simple if/then rules, has finally arrived on the iPhone as a must-have productivity app.
IFTTT's name precisely describes what it does: If a certain criterion involving one of your phone's apps is met, then IFTTT will automatically perform an associated follow-up action. For example, if you add a new contact to your address book, you can have your phone automatically send that person an email with your own contact information attached. Or, if the day's weather forecast calls for rain, you can have IFTTT send you and your family a text message reminding everyone to bring an umbrella before they leave the house in the morning. All you need to do is tell IFTTT what to look out for and what to do once it happens. It really is that simple.
Popular apps like Facebook, Instagram, Evernote and Dropbox are easily integrated into IFTTT. Even the WeMo app-controlled switch and Philips hue light – two of Techlicious's connected home products to watch in 2013 – work with IFTTT. So if you're really addicted to Facebook, you can have your ceiling lights flash blue every time you get a new friend request. You know, just because you can.
A lot of IFTTT's magic comes from your own creativity, but if you're ever hard up for good ideas, the app offers a "Browse" feature where users share their most useful automation recipes. Submissions are ranked by popularity, so you won't need to waste your time wading through a lot of nonsense to find the coolest automation ideas out there.
IFTTT is currently available for free download on the Apple App Store, and an Android version is currently in development. You can read up more about how the app works on the IFTTT website.