The hunt for good kid-friendly events and places to visit can be a bit daunting, especially when you're trying to fill those long summer days. RedRover has taken that challenge head on with the latest version of their website and companion app for the iPhone.
Both the site and app enable you to seamlessly access a variety of activities and events that have been curated by RedRover for "Babies & Toddlers," "Kids," "Teens" or "Grown Ups." Then you can filter the activities based on your interests, such as exhibits, drop-in classes, and special screenings.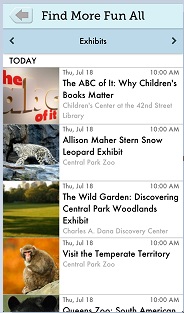 Detail pages for each event are well-designed to provide you with everything you need to know, including the address and location on a map, contact details and timing of the event. A "More Info" button in the app will take you to the event webpage on redrover.co for more detailed information (pricing and tickets) without leaving the app. A handy and clever "Nearby Before & After" section that appears at the bottom of each event listing provides you with additional kid-friendly activities in the general vicinity so you in theory could plan out an entire days' worth of things to do and see.
RedRover is currently available for New York, San Francisco and Atlanta, but other cities, such as Chicago, Boston and Los Angeles, are coming soon. So whether you live in one of these cities or know that you'll be visiting soon, you can count on RedRover to provide fun activities for you and your kids to enjoy.
Cost: The app available is free on iTunes or you can directly access events on the RedRover website