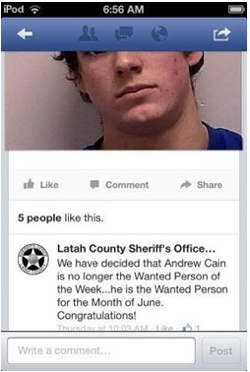 Police departments around the country are no strangers to using Facebook to help catch bad guys. But reports out of the Pacific Northwest suggest that Idaho's Latah County Sheriff's Office may have gone one step too far in how it used the social network to try to catch 19-year-old Andrew Cain for marijuana-related and other non-violent charges, ultimately cyberbullying the teen into committing suicide.
Last week, the Latah County Sheriff's Office posted a Facebook comment about Cain in an attempt to taunt the teenager into turning himself in. "We have decided that Andrew Cain is no longer the Wanted Person of the Week," read a public comment issued by the department over social media. "…he is the Wanted Person for the Month of June! Congratulations!" The police also sent Cain private messages over the social network, offering the teen a copy of his wanted poster for turning himself in.
According to family members, total strangers began harassing Cain on Facebook as a result of the sheriff's office's posts, causing the teen incredible amounts of stress that helped drive him to suicide. "It was like he couldn't escape it for five minutes cause everyone around him shared it and was bringing it up," said Alise Smith, Cain's sister, to KREM 2 News in Idaho. Smith doesn't believe the police to be single-handedly responsible for her brother's death, but she has called the post "childish" and is demanding an apology from the persons responsible.
Though the Sherriff's Office is not taking responsibility for the teen's death, Latah County Sheriff Wayne Rausch sent his condolences to the family. In a public statement, Rausch says, "it has never been my policy to include editorializing in media releases pertaining to the location and apprehension of persons wanted by the court. That situation has been resolved."
Rausch has continued his office's policy of posting images of wanted criminals online, even following Cain's suicide. Predictably, that is only adding to the department's public relation woes. "You are no longer the asshat of the day," reads one private citizen's response to the Latah County sheriff's Facebook page. "You've been promoted to jackwagon of the year."