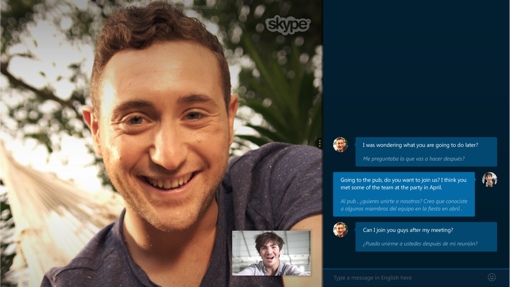 Modern technology has truly begun to erase language barriers. Today, Skype announced the launch of its Skype Translator Preview, the first public phase of a new speech recognition feature that can automatically translate between languages in real-time.
When you say something in English, Skype Translator will recognize your words and quickly convert them to spoken Spanish for the person on the other end. When they respond in Spanish, Skype Translator will speak it back to you in English. It's smart enough to leave out all your "uh" and "um" verbal stutters, and can easily distinguish between like sounding words (their, they're). A transcript of the chat is displayed on both screens, in case you need to go back and reference it.
For now, the preview is limited to translating between English and Spanish. It works via machine learning – that is, it gets smarter and more accurate as more people use it. (Note that this means calls may be recorded to improve translation services.) More languages will be added as the software evolves and improves.
Want to give Skype Translator a try for yourself? You'll need to head over to the Skype Translator website at translator.skype.com and register as a tester. To learn more about the tech behind the new program, check out the Skype Garage blog. If you want to see it in action, check out the short video below.