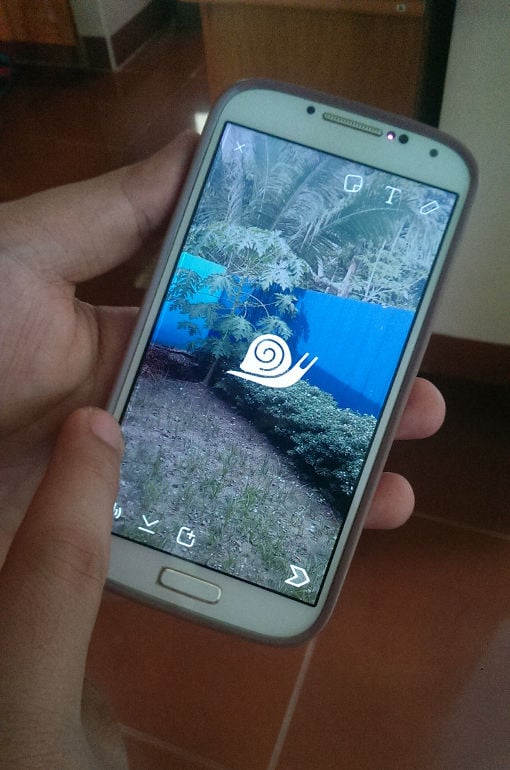 Brace yourself for more creative videos as the popular photo- and video-sharing app Snapchat introduces new filters for your video snaps.
Speed Modifiers, as Snapchat calls them, are video effect filters that adjust the playback speed of your videos, making your actions appear to defy the laws of physics. You can create videos that play in slow motion, fast motion or rewind.
In Slow Motion, your video plays back at a much slower pace than usual. The effect gives more dramatic emphasis to fast-moving objects like water fountains or high-speed actions like running.
The Fast Forward filter speeds up your video. It can add a comic effect to slow-moving subjects such as a snail or help create a sense of fast-paced movement.
Rewind plays your video in reverse. The effect can create drama by creating a sense of turning back time, such as the image of spilled water being sucked back into a glass or a swimmer "jumping" from the water back onto the diving board.
To apply Speed Modifier effects after capturing a clip, just swipe to either side to cycle through the various filters and effects. The icon indicates what filter is active, with a snail icon for Slow Motion, a rabbit for Fast Forward and the rewind symbol for Rewind.
Unfortunately, you cannot apply more than one video effect to a single video or create separate videos with distinct filters from one video source. It is currently not possible to use Snapchat to create an effect similar to Instagram's Boomerang, which captures a one-second video of burst-shot images that are played forward and then in reverse in a seemingly endless loop.
Speed Modifiers are just one of the new tricks Snapchat has introduced recently. Last month, the app added Snapchat Lenses, allowing users to create fun and funny animated selfies; think robot face, angel face, fish face — you get the idea. Snapchat also began selling extra replays of deleted Snaps for less than a dollar.
The updated Snapchat app also includes 3D Touch support for quick options on the iPhone 6s and 6s Plus. With a strong tap on your home screen's Snapchat icon, you will see shortcuts for sending Snaps or adding friends. Snapchat also lets you add doodles and text, apply photo filters, superimpose time, speed or temperature overlays, pepper your Snaps with emojis and add creatively designed city names or landmarks based on photo location.
[Image credit: Techlicious]