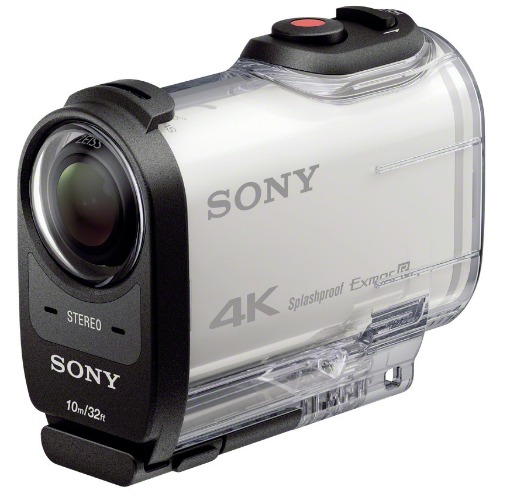 Sony's digital imaging division has been hard at work on two things: making cameras smaller and adding more 4K content creation possibilities. At CES the company unveiled new Handycams and Actions Cams that showcase these two goals. Of the handful of new or updated devices a few stand out as worth keeping an eye on over the coming weeks.
In the ever-crowded market of action cameras, Sony is looking to tempt daredevils and budding sports stars with the FDR-X1000V, an Action Cam that shoots in 4K. Being able to replay your epic basejump on a 4K TV does strike us as pretty cool, though it does assume you have a 4K TV or monitor to play it on.
The 4K Action Cam will run you $500 when it comes out in March. Though that's a nice chunk of change for a wearable camera, it's not a ridiculous price for the functionality. You get a ZEISS Tessar lens with an ultra-wide 170 degree angle field of view. The back-illuminated Exmor R CMOS sensor gives you versatility for shooting in both bright and low light. Sony's stabilization technology is top notch. And when shooting in HD and Full HD it's possible to do so at very high framerates of 120p and 240p, which is key in creating slow motion videos.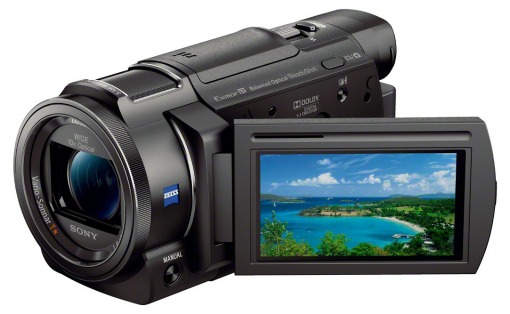 If 4K video is what you're after but you could do without the wearable aspect, Sony also revamped their 4K Handycam. The FDR-AX33 is the follow up to last year's AX100, which was a pretty compact 4K handheld. This year's model is 30% smaller and 20% lighter, according to Sony. Less weight is always good, and a more compact body means you may be able to get away with stashing it in an existing bag instead of carrying a separate one.
The insides also got a revamp with a more reliable optical steadyshot feature and high bitrate recording. And Sony added a customizable ring and button that owners can program to much-used functions such as zoom, focus, or even exposure adjustments. Though made for camera novices, the AX33 also looks to be a good pick for indie filmmakers on a budget.
The Sony FDR-AX33 will be out in February and cost $999.
[Images via Sony]