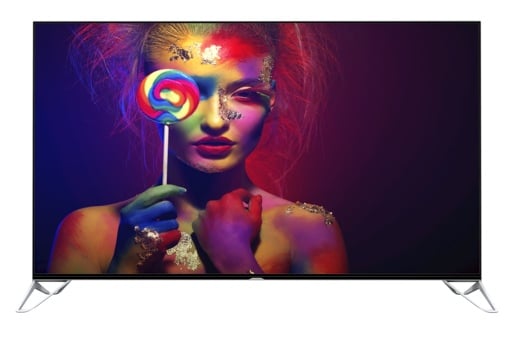 This week at the International CES 2015 consumer electronics show in Las Vegas, you can expect a number of companies will be touting their latest and greatest 4K Ultra HD televisions. Sharp, manufacturer of the AQUOS line of televisions, is thinking beyond 4K, however. Its AQUOS Beyond 4K Ultra HD TV is being touted as the first 8K LCD to comply with the standards of the first 8K test broadcast.
Full HD televisions have a resolution of 1920 x 1080 pixels (1080p). Ultra high definition televisions, meanwhile, have 3840 x 2160 resolution (4K). Sharp's AQUOS Beyond 4K Ultra HD TV uses a proprietary pixel-splitting technology to create subpixels capable of creating separate color values. The result is an effective resolution of 7680 x 4320 (8K) with 66 million independently controlled subpixels, 650 candelas of brightness and a 4000:1 contrast ratio. All told, Sharp's new AQUOS has 16 times better (effective) resolution than the HDTVs currently available at your local retailer.
The Sharp AQUOS Beyond 4K Ultra HD TV on display at CES 2015 is an 85" prototype with a massive active area of 8.7 feet by 4.9 feet. Given its massive size, this television is clearly designed for commercial use, not use in the average home. That's just as well, though: The first 8K test broadcast will be taking place in Japan sometime in 2016. Even 4K content is in short supply, currently limited to just a handful of streams on Amazon Instant Video, Netflix and YouTube.
Pricing and availability of the Sharp AQUOS Beyond 4K Ultra HD TV has yet to be announced. To learn more about Sharp's AQUOS line, visit the company's website at www.sharpusa.com.
[Image credit: Sharp]