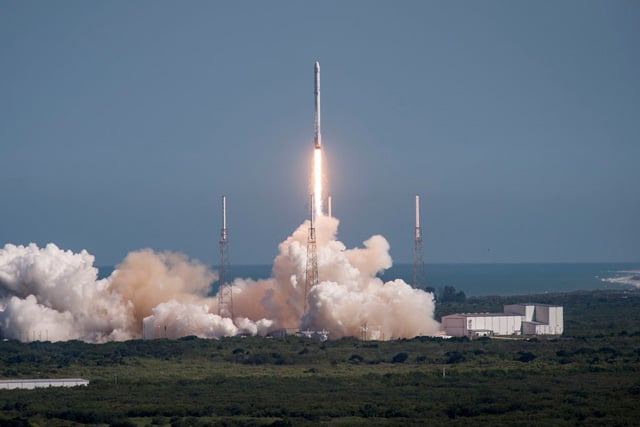 UPDATE 7:50PM ET: The launch of the Thaicom Mission has been delayed until at least tomorrow for "additional data review." According to a tweet by SpaceX founder, Elon Musk, "There was a tiny glitch in the motion of an upper stage actuator. Probably not a flight risk, but still worth investigating."
ORIGINAL STORY:
Today, SpaceX will attempt to launch another rocket into space and then land it safely back on Earth. If all goes as planned, the Falcon 9 rocket will return from orbit to land on a robotic drone ship, endearingly named ""Of Course I Still Love You." This would be the fourth time SpaceX has recovered one of its Falcon 9 rockets, and the third landing at sea.
The current mission objective is to deliver a commercial communications satellite for Thaicom, a leading Asian satellite operator, into a supersynchronous transfer orbit that will later be reduced by the satellite to a geostationary orbit of around 35,800 kilometers. The launch will take place at 7:40pm tonight from Cape Canaveral, Florida and the satellite will be deployed about 32 minutes after liftoff.
Following stage separation, the real challenge begins. The first stage of the Falcon 9 will return to Earth and attempt to land on the drone ship. According to SpaceX, the first-stage will be subject to extreme velocities and heating during re-entry heating, making a successful landing "challenging". We'll either witness another successful recovery, as in this image from SpaceX's ORBCOMM 2 mission in December, 2015, or a stupendous explosion.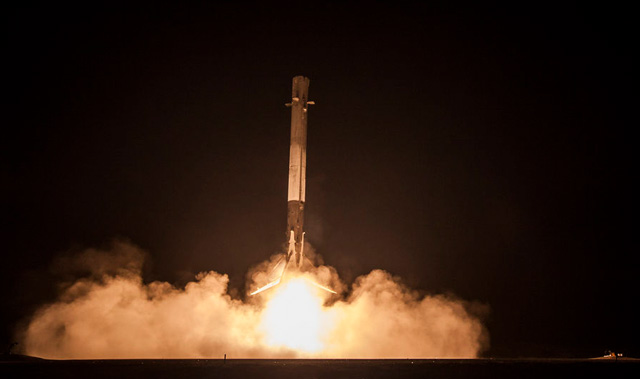 SpaceX has provided the mission timeline as follows:
COUNTDOWN (Hour/Min)
00:38 Launch Conductor takes launch readiness poll
00:35 RP-1 (rocket grade kerosene) and LOX (liquid oxygen) loading underway
00:10 Falcon 9 begins engine chill prior to launch
00:02 Range Control Officer (USAF) verifies range is go for launch
00:01:30 SpaceX Launch Director verifies go for launch
00:01 Command flight computer to begin final prelaunch checks
00:01 Pressurize propellant tanks
00:00:03 Engine controller commands engine ignition sequence to start
00:00:00 Falcon 9 liftoff
LAUNCH AND SATELLITE DEPLOYMENT
00:01:17 Max Q (moment of peak mechanical stress on the rocket)
00:02:35 1st stage engine shutdown/main engine cutoff (MECO)
00:02:39 1st and 2nd stages separate
00:02:46 2nd stage engine starts first burn
00:03:37 Fairing deployment
00:08:56 2nd stage engine cutoff (SECO-1)
00:27:07 2nd stage engine restarts for second burn
00:28:20 2nd stage engine cutoff (SECO-2)
00:31:56 THAICOM 8 satellite deployed
[Image credit: SpaceX]