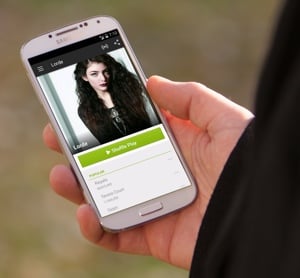 Music streaming service Spotify today announced that it now offers new free mobile listening options for both smartphone and tablet.
Tablet owners will see the biggest free feature set, one that pretty closely mirrors the desktop experience. You now use your iPad or Android device to create playlists and listen to individual songs on demand, just like on your desktop.
"We also know how much our users love to use their tablets for music at home," says Spotify CEO Daniel Ek. "Unlike mobile devices, it turns out that tablets are becoming the new desktops. Tablets are where people lean in, search and build playlists. So, starting today, iOS and Android tablet users can enjoy the same great free Spotify experience that they've grown to love on their computer. Any song or album, on-demand at your fingertips."
Unfortunately, smartphone owners don't make out quite as well. You'll now be able to listen to your own pre-made playlists and existing artist catalogues, but only through a shuffle mechanism.
I'm currently a subscriber to Spotify Premium's $9.99 monthly service. Today's news won't change that – it's still the best way to get on-demand, ad-free music streamed to my smartphone. But if you're looking to enjoy music on the go and on the cheap, Spotify's new free tiers are worth playing around with.
You can find the Spotify app on the Apple App Store (iOS) and on Google Play (Android). To learn more about the Spotify service, check out the company's website at spotify.com.