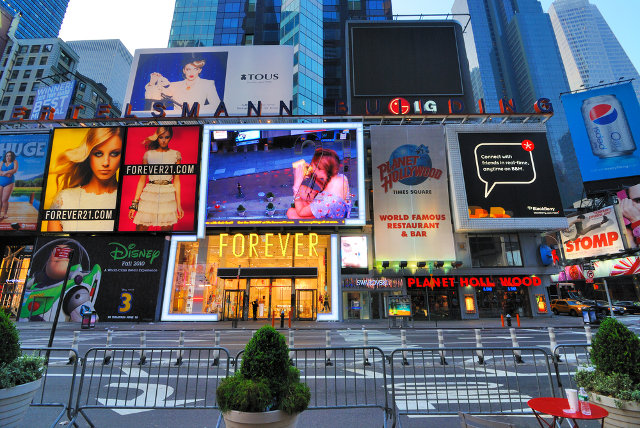 Billboards that track passersby have been sprouting up all over along streets, at airports, train and bus stations, commercial centers and commuter hubs. But U.S. Senator Charles Schumer thinks that such "spy" billboards could encroach upon your privacy — and he's calling upon the U.S. Federal Trade Commission to look into the matter.
Aside from displaying ads, these tracking billboards gather data and analytics about passersby (sometimes using small cameras) to help companies market products and services better — in marketing parlance, to serve targeted and personalized advertising. The billboards use the mobile phones of people who come near, a move Schumer claims is potentially a privacy breach.
"A person's cell phone should not become a James Bond-like personal tracking device for a corporation to gather information about consumers without their consent," Schumer said in a briefing earlier this week. "No one wants to be followed or tracked throughout their day, electronically or otherwise."
Further, Schumer believes that consumers should be allowed to opt out of the tracking program and that companies should be up front about their use of billboard tracking technology.
Mobile Location Analytics (MLA) companies track and log your movements and locations through the Media Access Control (MAC) address broadcast by your Wi-Fi-enabled device. Even if MLA companies assure you that only anonymous and aggregate data are collected, a seemingly anonymous MAC address can be easily traced to you by cross-referencing your MAC address against existing data gathered through the loyalty programs and store cards that you subscribe to.
Users of the iPhone with iOS 8 or higher need not worry about being tracked because these versions of iOS hide your true MAC address by using randomly generated MAC addresses. Android users, however, must disable Wi-Fi to stay out of sight of spy billboards.
Decrease your risk of Wi-Fi privacy breaches with these tactics:
To increase your privacy, make it a habit to deactivate both Wi-Fi and Bluetooth when you're not using them.
Take privacy to the extreme by activating Airplane (or Flight) Mode.
Disable geotagging in apps such as Facebook, Instagram and Twitter unless you deliberately allow such apps to know your location.
When prompted by your phone, refuse to remember and automatically connect to Wi-Fi networks. Allowing automatic connections can make you a sitting duck for Wi-Fi sniffers, MLA companies, spies, man-in-the-middle attackers and other digital criminals.
Enable data encryption on your phone.
When connecting to open Wi-Fi networks, connect securely by using a virtual private network (VPN).
Use WPA2 encryption instead of the outdated WPA or WEP protocols.
[Image credit: Sean Pavone / Shutterstock.com ]