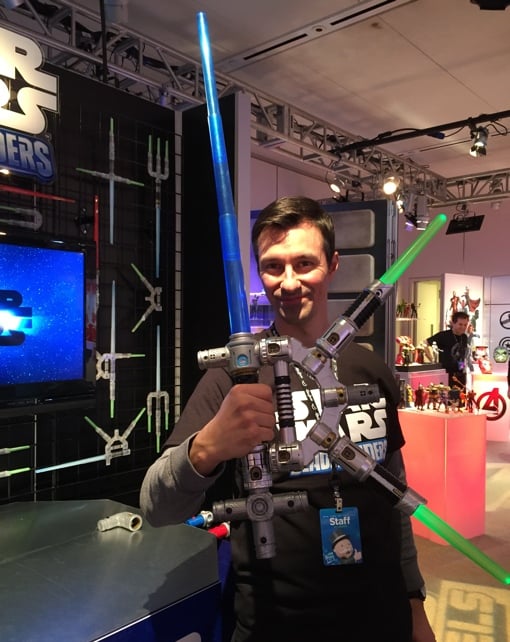 Don't let your kids sneak aboard the Death Star or wander through the core of Cloud City empty handed — a Lightsaber duel can break out at any time. Prepare them for sci-fi heroics with the new Star Wars Bladebuilders set from Hasbro. Introduced at the 2015 Toy Fair in New York, Bladebuilders lets kids create their own futuristic light-up Lightsaber armaments in any configuration they'd like.
The Bladebuilders Jedi Master Lightsaber comes with the main Lightsaber with lights and sounds, two independently-lit lightdaggers, an expansion hilt, two elbow connectors, a dual connector and a cross connector, all powered by the Force (and three AAA batteries). Kids can arrange the plastic blades however they'd like for one Star Wars play session, and then completely rearrange the pieces in time for the next big battle. Expansion Bladebuilders sets will also be available with extendable blades and classic character hilts including Obi-Wan Kenobi, Darth Vader and Luke Skywalker.
Hasbro's Star Wars Bladebuilders Jedi Master Lightsaber set is recommended for kids aged 4 and up. You can expect to see it on store shelves sometime in fall 2015 with a suggested retail price of $49.99. And if you're worried about your little Vader chopping off his playmates' hands, soft foam lightsabers ($14.99) will be available in the fall as well.
[Image credit: Techlicious]