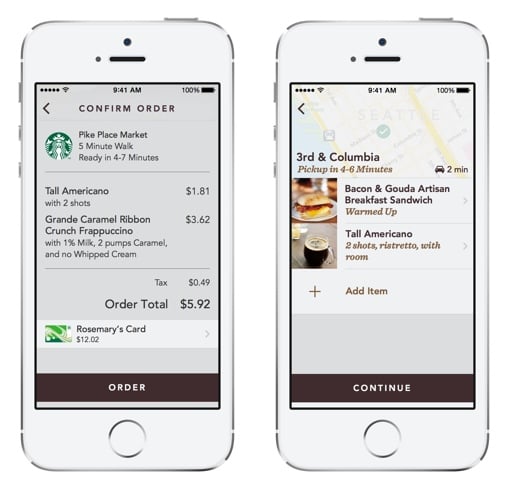 The Starbucks iPhone app just got a great new feature this week, at least for those who live in Portland, Oregon: You can now use it to order your coffee. Called "Mobile Order & Pay," the new option lets you choose your store and pay in advance. You can then skip the in-store line entirely and head straight to the beverage pick up counter to get your favorite brew.
The new feature can be found under a new tab in the app called "Order," which will only be available when your phone's GPS detects it's near a participating Starbucks location. Beverages are fully customizable, just as they are in store – ordering a tall double shot with almond milk is no problem. Food is available for order as well. The app displays the distance and approximate wait times for available locations, and your barista will time your order to be ready (but still piping hot) when you arrive.
The service is only in its beta test stage, and is currently limited to stores in the Portland, Oregon area. Mobile Order & Pay is expected to roll out to more cities nationwide throughout 2015. Order support for Android devices is also scheduled for 2015.
A whopping 15 percent of all purchases made at Starbucks were routed through the mobile app, even before the introduction of Mobile Order & Pay. The new feature can only increase the app's popularity. And if the ability to order ahead isn't enough, just wait: Starbucks plans to introduce an app-powered coffee delivery service late next year.